Researchers: too soon to call PPI's growth as sign of recovery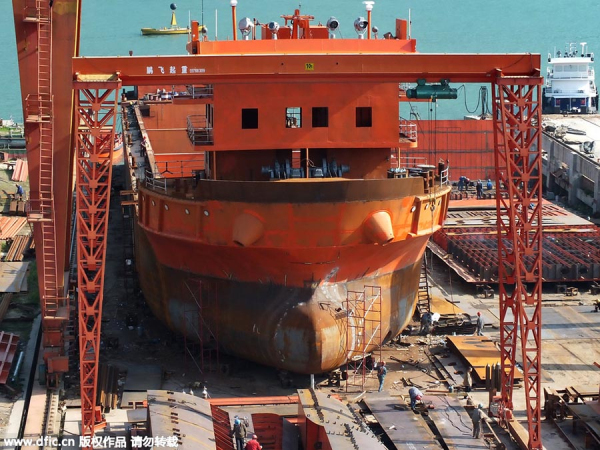 A cargo ship is being built at a private shipyard on the bank of the Yangtze River in Yichang, central China's Hubei province, April 13, 2015. [Photo / IC]
It's too early to say whether reforms are taking effect, even though the Producer Price Index (PPI), which gauges factory-gate prices, rose by 0.1 percent year-on-year in September after falling for more than 54 months since March 2012, warned a report issued by the Center for China in the World Economy (CCWE), Tsinghua University.
Although many research centers predict that the economy has already reached the bottom and will now rebound, CCWE said it still needs to observe how China will tackle major challenges in 2017.
CCWE is led by David Daokui Li, who served as a part of an academic trio of advisors to the Monetary Policy Committee of the People's Bank of China (PBOC), China's central bank, from 2010 to 2012.
The report, which analyzes predictions based on China's economy's third quarter (Q3) data in 2016, covers various key aspects, such as fixed-assets investment, PPI and CPI, property market, consumption, imports and exports, exchange rates and leverage.
After studying the different indicators, it concludes that more time is needed to definitively say that an economic recovery is around the corner, although numerous indicators do show that the growth is stabilizing. CCWE predicts that the GDP growth rate for the whole year in 2016 would be 6.7%, but the annual rate of growth will slow down to 6.6% for 2017.
The CCWE research team said the main engines driving the PPI's growth are the upstream industries such as mining and quarrying, which means the foundation is not solid or sustainable, and also more unpredictable.
CCWE said although PPI would gradually maintain positive growth as the prices of the coal, iron and steel industries rebound, in the long run it would be difficult to drive PPI, especially when the performance of downstream processing industries is still lackluster.