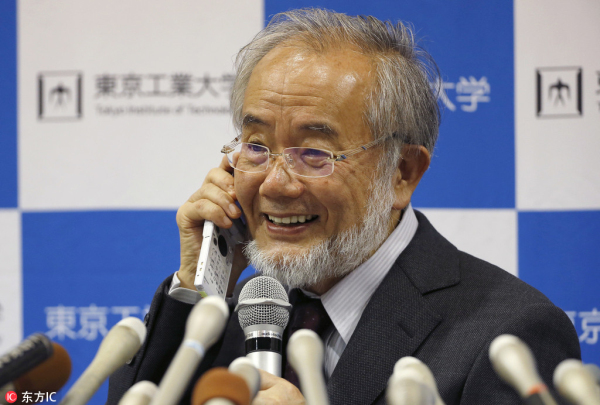 In this Monday, Oct. 3, 2016 ., Nobel Prize winner Yoshinori Ohsumi smiles as he speaks with Japanese Prime Minister Shinzo Abe on a mobile phone during a press conference at the Tokyo Institute of Technology in Tokyo. Ohsumi won the Nobel Prize in medicine on Monday for discoveries on how cells break down and recycle content, a garbage disposal system that scientists hope to harness in the fight against cancer, Alzheimer and other diseases.[Photo/IC]
This year's Nobel Prize in physiology or medicine has been awarded to Japanese microbiologist Yoshinori Ohsumi for his research into how damaged cells recycle themselves, which the Nobel jury said is of "fundamental importance in physiology and medicine".
This makes the 71-year-old scientist the 25th Japanese person to win a Nobel Prize in a scientific field since Hideki Yukawa became the first Japanese to win the Nobel Prize in Physics in 1949.
Although it has maintained rapid economic growth for decades, China still lags far behind Japan in science and technology. Last year, Tu Youyou became the first Chinese Nobel laureate in physiology or medicine, for the medical achievements she and her team made four decades ago.
Now many Chinese are asking how Japan achieved so many notable breakthroughs in science and technology in the short period since the end of World War II.
Tellingly, the Japanese government advanced producing as many Nobel Prize winning scientists as the most technologically advanced European countries-to be specific, 30 Nobel laureates in 50 years-in its second national Science and Technology Basic Plan in 2001.
The goal was once supposed "unlikely" by many people including Japanese Nobel laureate Ryoji Noyori. But surprisingly there's been a boom in the number of Japanese Nobel Prize winners since the beginning of 21st century. Within the 17 years since 2000 there have been 17 Japanese Nobel Prize winners, all in scientific fields.
The boom in the number of Japanese Nobel Prize winning scientists came after the country's so-called lost decade, the period from 1991 to 2000, reflecting the rapid development of science in Japan after the World War II.
However, Japan's long-time pursuit of scientific development still provides valuable experiences for China to learn from. Unquestionably, investment is the soil necessary for scientific research to bear fruit. For years Japan's science and technology investment has been above 3 percent of its GDP, among the highest worldwide.
China has realized the significance of investment for scientific and technological progress. In 2015, China's research and development investment accounted for 2.2 percent of its GDP, and it has set the goal of raising it to 2.5 percent in its 13th Five-Year Plan (2016-20).
But while investment is essential for scientific research success, it does not necessarily guarantee fruits.
In any country, at any time, people are always the most important factor behind any scientific and technological achievements. Almost all the Nobel Prize winners have devoted their entire life to their research and work. And there are always several decades of hard work and numerous failures before they make their breakthrough.
More importantly, when they enter the long road of scientific research, they don't know whether their efforts will be futile or change the course of history. And behind every Nobel laureate there are many other scientists who have played a role in their achievements.
In the interview after he was awarded the Nobel Prize, Yoshinori emphasized the importance of seemingly "useless" fundamental scientific studies in the near future. Some achievements in fundamental scientific studies may not prove "useful" to other researchers for another 10 or 100 years, he said.
Meanwhile, the Nobel laureate hopes science will be regarded as important in its own right, "not something that is developed for practical purposes only". If scientists are pressured to engage only in studies that can be "useful" for some practical purposes, "genuine basic science will become extinct," he said.
Maybe Chinese, especially those in the scientific field, can also learn from the "craftsmanship spirit" of Japanese people, which refers to people who devote all their efforts to doing what they love. Yoshinori said he never dreamed that his study of yeast would someday "serve any practical purposes" when he started doing it alone 28 years ago, but he "always wanted to do something that other people wouldn't do" and "have fun in doing what others don't do".
That spirit is undoubtedly of great significance to the achievements he made, and one that Chinese researchers would do well to adopt.
The author is a writer with China Daily.
wangyiqing@chinadaily.com.cn