2016 Nobel peace prize provides hope to Colombian people: UN chief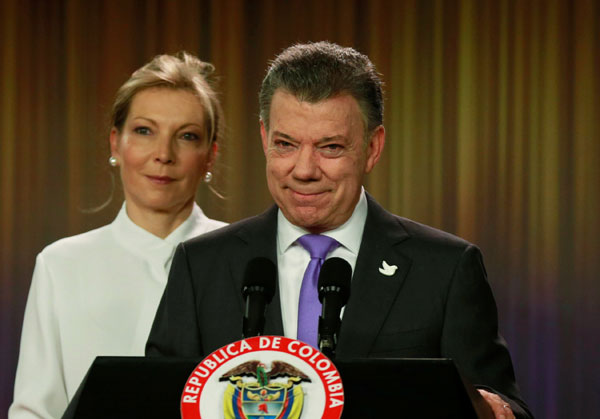 Colombia's President Juan Manuel Santos smiles as he addresses the media next to his wife and first lady Maria Clemencia de Santos, after winning the Nobel Peace Prize, at Narino Palace in Bogota, Colombia, October 7, 2016. [Photo/Agencies]
UNITED NATIONS -- UN Secretary-General Ban Ki-moon said on Friday that the 2016 Nobel Prize for Peace has been awarded to Colombian President Juan Manuel Santos at a critical moment, which provides hope and encouragement to the Colombian people.
Santos won the 2016 Nobel Peace Prize for his resolute efforts to end Colombia's five-decade-long civil war between the Colombian government and the country's largest rebel group FARC.
Ban said this acknowledgement is "a timely message" to all parties striving for peace and tells them to keep working until they have brought the peace process to a successful conclusion, UN Deputy Spokesperson Farhan Haq told a daily briefing.
"He welcomed the continuing commitment of the parties to the cease-fire and encouraged the leaders to conduct a pragmatic dialogue focused on the Colombian people," said Haq.
Colombia's peace process has plunged into uncertainty as the Colombian people have narrowly rejected a peace deal reached between the Colombian government and the FARC in a national vote. Discussions for an improved accord are under way.
The conflict in Colombia has left 220,000 people dead, 25,000 missing and more than 5.7 million homeless in the country. The estimated economic loss of the country has reached $179 billion.