Get rid of vicious circle to improve China-Japan ties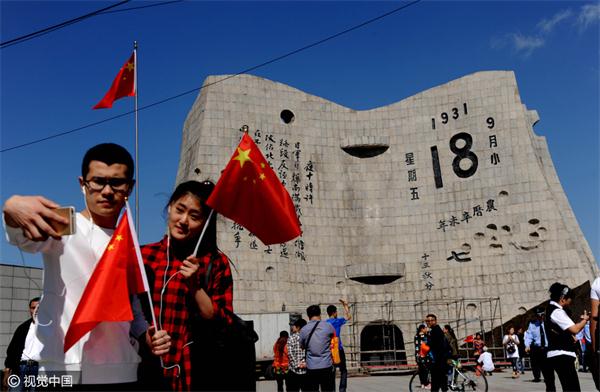 Visitors take selfies in front of the 9.18 Historical Museum in Shenyang, capital of Liaoning province, on Sept 18, 2016. This year marks the 85th anniversary of the September 18th Incident, also known as the "Mukden Incident." The museum is collecting items of interest related to the incident, or that may be symbolically related to that day, from around the world. [Photo/VCG]
Sept 18 holds peculiar significance in Chinese people's memories-as a "day of national shame". On that day 85 years ago, taking advantage of the Mukden Incident, which it had masterminded and blamed on the Chinese instead, the Imperial Japanese Amy started the full invasion of China.
"Never forget the national shame" has since been the main theme of commemoration on every Sept 18. Only that the call for remembering history gets louder every fifth year, or, more recently, when relations with Japan sour.
Besides serving as an occasion for driving home the message "lagging behind leaves the nation vulnerable to attacks", a lesson modern China has learnt the hard way, it has acquired a brand-new dimension-a ritual appeal to Japan to face history, instead of whitewashing it.
We had every reason to anticipate louder, harsher Japan-bashing on Sunday, because the 85th anniversary of such a date of shame coincided with an obvious nadir of bilateral ties.
There is no sign that the Shinzo Abe administration will step back from its rightist approach to Japan's militarist past. And Tokyo's moves of instigating and arming countries in territorial disputes with China in the South China Sea, along with its reported decision to join the United States and patrol the South China Sea, are only the latest hallmarks of the deep-freezing relationship.
The subdued manner the anniversary was commemorated on Sunday, therefore, was more or less out of the norm. But certainly not incomprehensible.
Beijing appears to have seen the harmful potential of its war of words with Tokyo, and it has become serious about damage control.
After all, the two countries' leaders just met on the sidelines of the G20 Summit in Hangzhou, affirming common aspiration for a thaw in ties. There is nothing wrong with Beijing's insistence on "holding history as a mirror" for Japan's obligation to face history. Or Tokyo's on "future-oriented relations".
Failure to integrate those two aspects into one organic whole, however, has driven Beijing and Tokyo, actually the entire Northeast Asia, into an endless finger-pointing game.
Many of Northeast Asia's present troubles have their roots in historical animosity. Specters of history have already dragged the region's countries into a game of mutual weakening, and are threatening to shatter their hopes for peace, stability, even continuing prosperity.
If Beijing has hinted at fence-mending through restrained rhetoric, such goodwill deserves something reciprocal from Tokyo.
The China-Japan relationship desperately needs to get rid of the vicious circle at work. Or all the words about reconciliation, of East Asia's integration, will prove empty talk.