Chinese government officials must be watching the train wreck that is currently British politics with a sense of disbelief - how can a thriving economy and a strong international player be reduced to a state of near impotence in two short weeks?
Well, resisting the urge to bring in biblical references such as Samson and Delilah, or David and Goliath, it's actually pretty easy.
All you need is a working knowledge of the standard Shakespearian plot - loyalty, treason, betrayal, back-stabbing, powerful egos and hubris - and there you have it.
We will assign the characters of Rosencrantz and Guildenstern (the devious pair from Hamlet) to former London mayor Boris Johnson and erstwhile justice secretary Michael Gove, both key players in the plot to get Britain out of the European Union. Prime Minister David Cameron would make a fine King Lear, based on his colossal misjudgement in allowing a referendum on EU membership in the first place. And Tony Blair, probably vying with Gove and Johnson for the title of most reviled British politician, has to be Macbeth.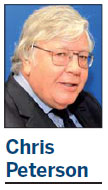 Blair's lack of humility in the wake of the excoriating Chilcot Report into the Iraq War probably gives him the edge, revulsion-wise. The end of the drama is a bit like Macbeth: blood everywhere and bodies littering the stage.
And that's Britain's political scene at present. I'm sure Beijing's government has as many UK watchers as Britain does China watchers.
So here's a helpful guide, offered with tongue in cheek, as to what happens next, and who China can expect to deal with.
First up, through a series of twists and turns that wouldn't look out of place in Game of Thrones, the UK has ended up with the certainty that the next prime minister will be Theresa May, the country's longest serving home secretary, or interior minister, of modern times.
There had been two candidates left vying for the title: May was by far the most experienced, who had been facing Andrea Leadsom, a former banker who only became a politician recently and holds junior minister status, having never served in the cabinet. She quit the race on July 11 after controversy had dogged her campaign.
May is a steely career politician renowned for putting her head down and getting on with the job. You won't hear any grandstanding statements that will hold her hostage to fortune.
Leadsom, on the other hand, is a committed Brexiteer - or was she? Recently, video surfaced on YouTube of her giving a speech a few years back in which she said that Britain leaving the EU would be a disaster. Plus, there have been serious doubts after she was found to have altered her CV in the light of claims that she hadn't been quite the important force in the banking world she claimed to be.
She also gave an interview to the Times recently in which she appeared to say that she would make a better prime minister because she had children, whereas May is childless. She later apologized.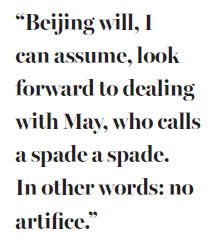 Welcome to the Shakespearian world of politics, Andrea.
May will be Britain's second female prime minister.
Which brings us to the inevitable comparison with Margaret Thatcher, dubbed the Iron Lady by Mikhail Gorbachev and the Soviet press in the 1980s.
May is very much in the Thatcher mold, fiercely patriotic and convinced she is right.
Chinese officials of a certain age will remember Thatcher from her years of negotiating the return of Hong Kong to Chinese sovereignty in 1997. I think both sides can agree the deal was an ideal solution.
Beijing will, I can assume, look forward to dealing with May, who calls a spade a spade. In other words: no artifice.
On the contrary, EU bureaucrats better watch out. Right now, it's open season for Brit-bashing in Brussels, but once May has steadied the ship in domestic waters, expect a severe "handbagging" from her along the lines of those handed out by Thatcher in her prime.
Thatcher's large, square patent leather handbags, ideal for metaphorically whacking EU bureaucrats who didn't pay attention, were her trademark - just as leopard skin kitten heels are identified with May.
I can safely say we're in for a fascinating time - at least the folks in Beijing won't have to deal with the erratic Johnson, whose inability to dress himself properly and keep his jacket buttoned up was legendary.
The author is managing editor of China Daily European Bureau, based in London. Contact the writer at chris@mail.chinadailyuk.com
(China Daily European Weekly 07/15/2016 page13)