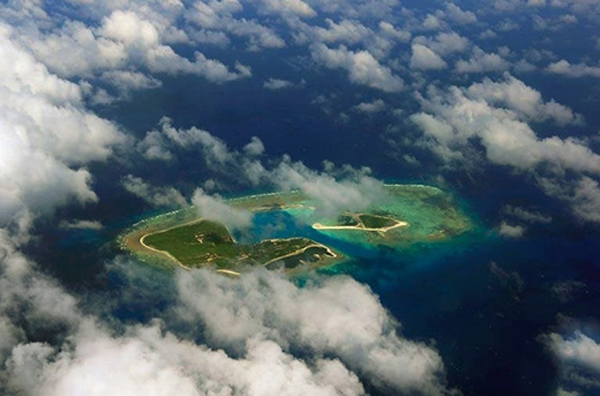 File photo of South China Sea. [Photo/Xinhua]
The basic logic of interaction between a rising power and an incumbent power is worth examining. Throughout history, rising powers have tended to benefit from limited prods and have therefore shown no willingness to reduce the momentum toward an ultimate conflict. And incumbent powers, with their strength in decline, have tended to act withdrawn or make limited concessions but, in many cases, they have eventually fought back.
Rising powers have inclined toward disregarding or making light of what Karl von Clausewitz called "culminating point of victory", incumbent powers, on the other hand, have tended to ignore or procrastinate defining "bottom lines for concession".
Such a scenario may begin to emerge over the South China Sea issue.
China has an overall strategic environment and task that are much bigger than the South China Sea issue. So it should make its best effort to deliberate on and handle the South China Sea issue in the context of its overall strategic situation. In such a situation, a matter of outstanding significance is China's foreign relations and diplomacy-and no matter how multifarious and complicated the reasons are, China's relations with neighbors have been less than desirable in recent years.
Besides, China-US relations, to maintain which has cost Beijing dearly over the years, have also yielded some frustrating, disappointing aspects. The aspects have a lot to do with each other: The turbulence in China-US ties owes much to the developments on the Korean Peninsula, Japan's actions, and the South China Sea issue in particular.
Given this fact, Beijing should keep its strategic situation in mind, and proceed to make peace with neighbors, and finally persuade and compel Washington to accept China's role in Asia as well as its strategic status as a world power.
China should adhere to its strategic principle on the South China Sea issue, the principle of safeguarding its rights and maintaining regional stability. It is important for China to safeguard its rights, but it is also important for it to maintain regional stability.
Whatever happens, it is necessary to prevent drastic escalation of strategic competition and rivalry between China and the United States, and to continue improving all-round relations with Southeast Asian nations as a very significant component of Chinese diplomacy. China should also try to maintain good relations with all the maritime nations in the region.
In the South China Sea, however, Beijing needs to upgrade its military capabilities, and consolidate its sovereign presence, while taking care to avoid a major conflict with the US.
In the aftermath of the arbitral tribunal's ruling on the Philippines' appeal against China in the South China Sea dispute, the US, Japan, some European Union countries and many maritime nations in Southeast Asia will question and deny the legitimacy of China's claims of sovereignty, maritime rights and interests in the South China Sea. To counter this, Beijing has to go out of its way to seek foreign governments' endorsement of its basic stance on the South China Sea issue.
China has already managed to convince a number of countries to support the proposal that the South China Sea disputes be settled through talks between the countries directly involved. But it should be prepared for a long-term struggle to fulfill its wishes in the South China Sea.
The author is a professor at the Institute of International Relations, Renmin University of China.