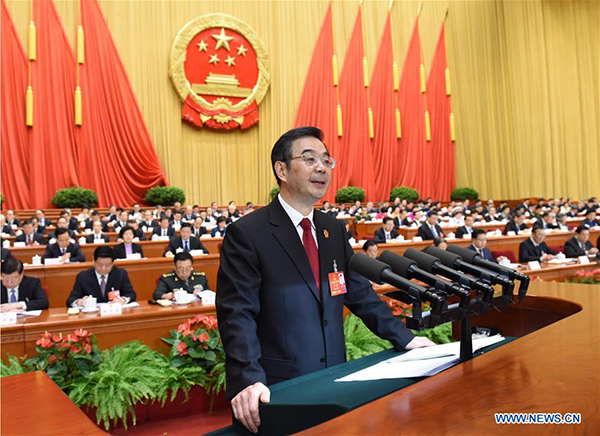 Zhou Qiang, president of the Supreme People's Court (SPC), delivers a report on the SPC's work during the third plenary meeting of the fourth session of China's 12th National People's Congress at the Great Hall of the People in Beijing, capital of China, March 13, 2016. [Photo/Xinhua]
The media in some surrounding and Western countries have responded with alarm after Chief Justice Zhou Qiang announced to the top legislature on Sunday that China will set up an international maritime judicial center.
Some interpreted the move as China's dissatisfaction with the international arbitration case initiated by the Philippines over its dispute with China in the South China Sea and claimed it was a step toward increasing China's influence in the settlement of international maritime disputes.
To deliberately add a "confrontational edge" to their reports and play down the practical need China has for the center, these media outlets ignored Zhou's remarks that China is now the country with the largest number of maritime courts and handles the largest number of maritime cases.
As a country with an 18,000-kilometer coastline, China has a growing number of international ports and also a rising number of maritime cases. The establishment of a maritime judicial center is aimed at more effectively dealing with these cases and promoting domestic law enforcement, rather than a move designed to protect the country's sovereign rights.
With the increasing number of international maritime cases handled by its courts, China's influence in this field is inevitably growing, and thus it is natural for it to establish an international maritime judicial center.
China is not aiming to build itself into a shaper of the international maritime order with such a center. Instead, it is realizing the natural evolution of the established order.
Nor is it China's intention to use the planned maritime judicial center as a tool in its maritime territorial disputes with other countries. China has always demonstrated self-restraint in the disputes and establishing an international maritime judicial center is surely beneficial as it will bring regional economic, trade and maritime environmental protection under a more efficient legal framework.