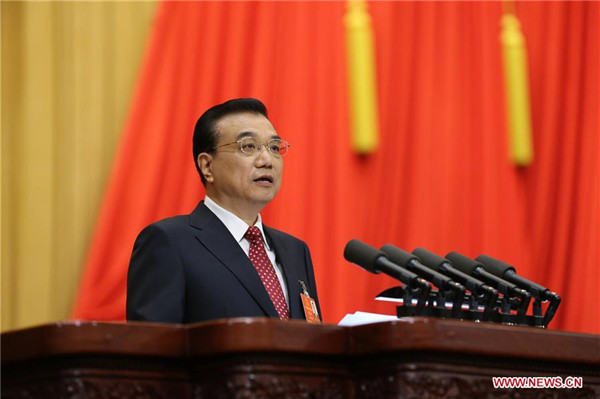 Chinese Premier Li Keqiang delivers a government work report during the opening meeting of the fourth session of the 12th National People's Congress at the Great Hall of the People in Beijing, capital of China, March 5, 2016. [Photo/Xinhua]
The People's Congress and the Political Consultative Committees of China are holding the so-called "two sessions" meetings in Beijing to discuss the development goals and policy methods to achieve them for 2016 and the entire 13th Five-Year Plan (FYP) period.
Premier Li Keqiang delivered his Government Working Report on March 5, 2016. He summarized the key achievements made in 2015 and the 12th Five-Year Plan period, highlighting the opportunities as well as the constraints faced by China for its social-economic development in the next five years.
The year 2016 is particularly important because it is the first year of the 13th Five-Year Plan when China aims to eliminate absolute poverty and build an all-round xiaokang, or well-off society, which is an important condition for the country to escape the so-called "middle-income trap".
People in and outside China are most eager to know what are the growth targets for this year and the 13th Five-Year Plan as well as the necessary policy instruments for realizing them.
There are two eye-catching points in Li's report regarding the growth targets.
First, the GDP growth target in 2016 is set as a range of value, 6.5-7 percent, rather than a simple figure, implying that the lowest expected growth will be 6.5 percent and the highest possible growth 7 percent.
China's GDP growth of 6.9 percent in 2015 failed by a small margin to meet its initial target of 7 percent. The volume of foreign trade contracted for the first time since the world financial crisis in 2008-2009.
Deteriorating external environment and mounting pressures for economic growth at home due to excess capacity of traditional manufacturing and rising costs of labor and other production factors, the challenges in 2016 and beyond are even more serious.
The purpose for setting a range of targets is two-fold: it is ambitious that growth should not be lower than 6.5 percent; it also gives a scope for flexibility.
Second, the overall growth target for the next five years is an average annual rate of no less than 6.5 percent.
As 6.5 percent is mentioned a few times, it is obvious that this will be the lowest growth target for 2016 and the entire 13th Five-Year Plan period, but the government still wishes to achieve even a higher rate at below 7 percent.
The key policy instruments are also mentioned in Li's report. As he does not prefer any strong stimulus package like what had done during the world financial crisis, Li outlines a sequence of minor stimulating methods, including the construction of high-speed railways, motorways and rural roads. In 2016 alone, for instance, the total investment in high-speed railways will be 800 billion yuan($122.6 billion).
Other policy instruments will include a modest fiscal deficit equivalent to 3 percent of GDP, monetary policy reform, RMB exchange stability, urban-rural integration, government efficiency, reduction of fees and taxes on enterprises, and a 100 billion yuan($15.3 billion) fiscal support to help reforming the State-owned enterprises, etc.
Although Li fully recognizes the tough challenges and constraints faced by China for its next stage of social-economic development, he appears competent and convincing that with his proposed policy methods, China's market potential, wisdom and hard-working spirit of its 900 million strong labor force, China will be able to achieve its development goals.
The success in achieving the goals will lay a solid foundation for China to build an all-round xiaokiang society and to prepare for the next stage of development so that it can avoid the curse of the middle-income trap.
The author is professor of economics at Chongqing University and Nottingham University.
The opinions expressed here are those of the writer and don't represent views of China Daily website