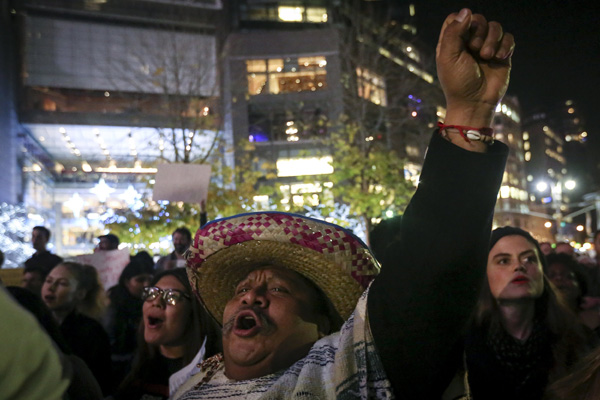 A man in traditional Mexican apparel takes part in an anti-Donald Trump, pro-immigration protest in the Manhattan borough of New York December 10, 2015. [Photo/Agencies]
Queuing up recently in a post office in Cleveland Park, Washington, D.C., a woman complained to me in a loud voice about the long line of customers being serviced by only one clerk. She then angrily provided a long list of what is going wrong in the United States.
Americans are known for being optimistic, but the word most often used to describe public sentiment in the US these days is "angry".
A number of polls in recent months have shown more Americans saying they are angry and that those that were already angry are angrier than before.
A CNN/ORC poll conducted in December revealed that 69 percent of Americans say they are either "very angry" or "somewhat angry" about "the way things are going" in their country.
A November survey by Esquire/NBC found that about half of the more than 3,000 American adults polled are angrier today than they were a year ago. The survey also showed whites are angrier than other ethnic groups and Republicans are angrier than Democrats.
Such anger is reflected in the 2016 presidential race where leading candidates have been scrambling to cash in on people's anger.
This week, billionaire businessman Donald Trump won seven of the 11 states on Super Tuesday by skillfully tapping into people's anger. He said in a debate in January that he would "gladly accept the mantle of anger," adding "yes, I am very, very angry".
Tapping into people's anger has been proven so powerful for Trump that some Republican heavyweights are wondering if they still have the clout to get rid of the non-mainstream tycoon in favor of Marco Rubio or Ted Cruz.
Likewise, Bernie Sanders, the Democratic candidate who carried four states on Super Tuesday, said "I am angry and millions of Americans are angry." And Hillary Clinton, the Democratic frontrunner told National Public Radio that "I understand why people get angry".