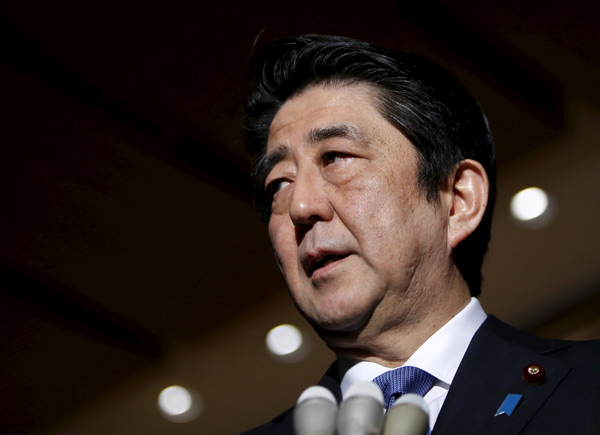 Japan's Prime Minister Shinzo Abe speaks to reporters at Abe's official residence in Tokyo, Japan, January 28, 2016. Japanese Prime Minister Shinzo Abe said on Thursday he wants the new economy minister, Nobuteru Ishihara, to continue the government's efforts to push through structural reforms. [Photo/Agencies]
JAPANESE PRIME MINISTER Shinzo Abe expressed his resolve to realize constitutional amendments during his tenure before a meeting of the House of Councilors Budget Committee on Wednesday. He also noted it will be difficult for his ruling Liberal Democratic Party alone to secure the two-thirds support needed in both chambers of the Diet to enable the constitutional revisions. However, the opposition parties, including the Democratic Party of Japan and Japan Restoration party, are unlikely to stop the amendments being passed, said china.com on Thursday:
Even if successfully forged, a coalition of Japan's two main opposition parties, has little chance of stopping Abe's Liberal Democratic Party, because many Japanese voters have lost their faith in them. The former ruling Democratic Party of Japan, which lost to the LDP in 2012, is falling apart and can hardly make a difference in the Japanese Diet.
More, nationalism, even militarism, have made easy inroads into the country. It is noteworthy that an increasing number of Japanese citizens endorse, or are not opposed to, Abe's ambition to revise Japan's so-called pacifist Constitution. This might not help the opposition parties reclaim the ground they have lost in the Japanese political arena.
The truth is, Japan has and will continue to have a key role in the United States' strategic containment of China, especially the US' rebalancing to Asia-Pacific policy. In return, it expects a greater say in both regional and international affairs.
In other words, Tokyo's national interests and Washington's Asia-Pacific strategy are now intertwined, which makes it almost impossible for the Abe administration to give up on its resolve to realize constitutional amendments. Neither will the opposition parties be able to make a difference, given their waning political power. Therefore, China has to stay alert to Japan's potential constitutional revisions and take precautions to deal with the potential dangers.