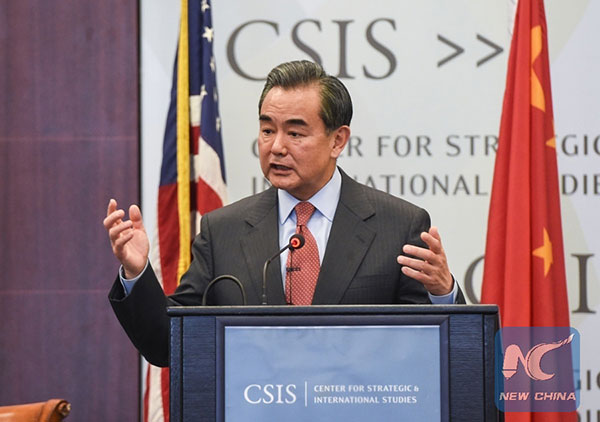 Chinese Foreign Minister Wang Yi speaks during a discussion on Chinese foreign policy and China-US Relations at Center for Strategic and International Studies(CSIS) in Washington D.C., the United States, on Feb 25, 2016. [Photo/Xinhua]
THE US, Canadian, German and Japanese ambassadors to China reportedly wrote to the country's Minister of Public Security on Jan 27 to voice unease about three new or planned laws, including the Anti-Terrorism Law, which they described as "vague", saying it could create "a climate of uncertainty among investors". Hans Dietmar Schweisgut, ambassador of the European Union Delegation to China, sent a letter expressing similar concerns a day later. China has every reason to protect its legitimate interests while integrating into the global economic order, said Global Times on Wednesday.
Some foreign media outlet's recent revelation of letters written to China's security authorities over a month ago seems well-orchestrated, as the country's sessions of the National People's Congress and the National Committee of the Chinese People's Political Consultative Conference will convene this week.
It is rather rare for foreign ambassadors in Beijing to make such a coordinated move, which may attract more attention prior to the most important annual political events in the country.
Their joint letters need not be over-interpreted, though, because the West holds a grudge against China's anti-terrorism law, the draft cyber security law, and a draft law on the management of foreign non-governmental organizations.
It is understandable that China's legislation of certain domestic laws is being closely watched by foreign countries, which want to protect their interests in the world's second-largest economy.
Beijing should listen to and respond to their concerns to better integrate into the world economy.
But like all sovereign states, China has the final say in its own legislative and judicial practices.
The letters mirror the fact that Western countries only care about their own interests. Most criticism from the West is aimed at protecting Western enterprises and institutions in China, and intervening in the country's human rights cause for their own purposes, especially when it comes to their support for a few dissidents.
For example, many Western observers of China seem to be concerned about whether the country will continue with its reform and opening-up. The answer is a resounding yes, because opening-up has served as a major driver of China's notable achievements in recent decades.
But it is not alone in legislating to safeguard homeland security in accordance with relevant World Trade Organization rules. Foreign companies should get used to the days of not being favorably treated if the new "restrictions" on them are well-founded.