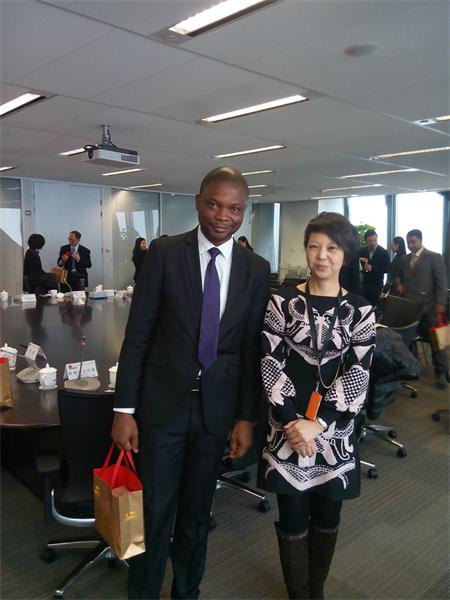 Joseph poses a photo with Tian Wei,a famous CCTV anchor in Beijing. [Photo provided to chinadaily.com.cn]
I was in Beijing between Dec 6-11 and these days so far represent the most adventurous, fun-filled and unforgettable days I have yet experienced in my life.
I was invited along with nine others from CCTV News audiences to Beijing after being selected in the 2015 audience survey. What I hoped to be just an adventure turned out to be life changing.
From CCTV I met the most wonderful people I have come across. They took my problem as theirs.
That was from the airport on my arrival. I judged them to be wonderful simply because of the amount of time (about four hours) they waited at the airport for me and the others invited. I know they were doing their jobs but it didn't actually seem so because there was a genuine concern about my delays at immigration.
My second unforgettable experience followed when we arrived at our hotel and I wondered if we won some sort of lottery.
The rooms were first class and room service home-like.
The next day we set out to the Beijing zoo, where among many other animals, I saw the PANDA! I mean the great Chinese Panda. This was no longer on TV screens. I came about five meters close to the lovely black-eyed animals. My phone camera couldn't stop flashing.
From there we left for the Great Wall. Yes, I mean the Great Wall of China. We took a cable car and arrived at an end where we took the walk amid slippery stairs to one of the summits. I was exclaiming in excitement all through. I can't believe I climbed the wall. One of the world's wonders. I never wondered again why it is one of the world's wonders because it's almost mysterious imagining how people were able to build such a structure in such an unforgiving terrain where we couldn't access most of it without the cable cars. It's absolutely unbelievable.
I didn't mention that we had lunch after the zoo but we did and it was in a restaurant where for the second time I saw and tested arrays of Chinese dishes. I tasted many foods and I didn't know their names. Some were not well received by my taste buds but many were quite tasty.
The next day took us to Tian'anmen Square. From there we headed to the Forbidden City. Our guide, Amy, gave us a dose of lectures of when, why and who built each structures. I got to learn about the dynasties and why the place got its name. That was to be it for that day but it wasn't, because we headed to the hutong area. We took rickshaws and toured the place. Our guide told us a lot about the people and how much they have preserved their traditions, including having a public toilet, which is not due to a lack of resources but to serve as a meeting point.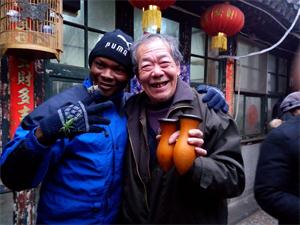 Joseph poses with the "Cricket Fighter".
We stopped at the home of the "Cricket Fighter". He is a very jolly man who got his name from his game of cricket (the insect) fighting. The sport involves grooming crickets to fight with some sort of betting. Our host seemed to be doing so well in the game because he was even featured in a Western magazine. The hutong was one of the most memorable places I visited.
The next day took us to the CCTV tower, where we toured the most massive and strange structure. I even took a picture standing on a glass floor overlooking the ground of the short passage way connecting the two structures that combine to make building.
We met anchors, producers and the international liaison administration guys at CCTV who sought our opinions on ways to improve CCTV News. We took a lot of pictures.
The next day we went to the Temple of Heaven and toured the smaller structures. I stood and prayed on the mound where emperors stood to pray for a good harvest. I also witnessed a strange audio effect at the school wall where you can clearly hear someone talking in a normal voice at the other end of the wall, which is not less than 50 meters apart. You won't understand how strange it is until you actually experience it.
We went shopping in a mall and I got to understand that the high cost of commodities in Beijing depends on your bargaining skills.
There were other places I visited but the whole experience has changed the way I think about China and the Chinese people. It is all still like a dream.