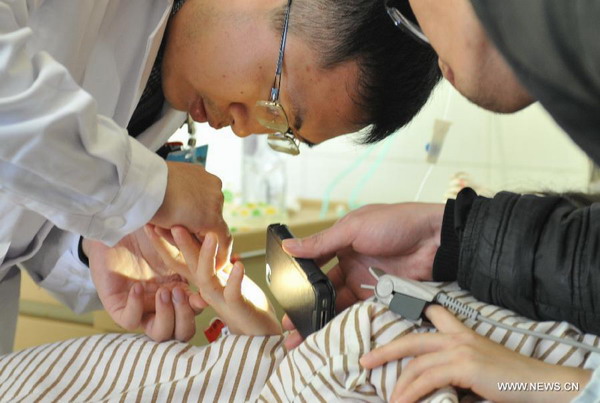 A doctor removes glass from a victim's hand who is injured of a bus fire at the No.1 Hospital in Xiamen,Southeast China's Fujian Province, Jan 15, 2015.[Xinhua]
POLICE IN the Guangxi Zhuang autonomous region rescued 19 people from a so-called psychiatric nursing hospital, which was used by a gang to house people with mental health problems they had kidnapped. The victims were kept in the "hospital" while ransoms were extorted from their families. The Beijing News reads:
A few years ago, the revelations of the forced labor used in Shanxi's brickyards shocked the country. Similar incidents of forced labor have been exposed since then, and many of those found working as slave labor were mentally ill. The illegal "psychiatric hospital" in Guangxi that has existed for 13 years was a variation of the same idea, kidnapping people with mental health problems and holding them hostage to make illegal gains.
Crimes of this sort are despicable.
No practice qualification, no license, the local government had no reason for not closing down this fraudulent institution right at the start. Even if the government mistakenly thought it was doing "good deeds", the treatment of the mentally ill should not be taken lightly, and all psychiatric service providers should be licensed and inspected.
The only explanation for this so-called hospital can be that the local government did not give serious consideration of the rights to health and life of its incumbents. They could be thinking that letting a "private institution" provide "care" for the mentally ill would save a lot of trouble.
Fundamentally, though, the reason why this illegal institution was able to exist is because of the serious shortage of public care facilities for people with mental health problems.