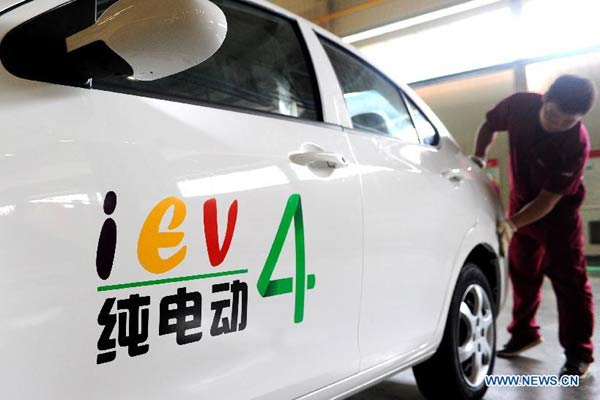 A worker checks a pure electric car at a workshop in Jianghuai Automobile Co Ltd in Hefei, capital of East China's Anhui province, Aug 19, 2014. [Photo/Xinhua]
Beijing's decision to reintroduce subsidies for energy-saving household appliances is a welcome step to enhance its residents' awareness of environmental protection and energy conservation.
Yet such green subsidies need to be further increased and well-targeted to help the city deal with its mounting environmental challenges.
Last week, Beijing announced that, in the coming three years, local consumers will enjoy a subsidy of up to 800 yuan ($125) for each of nine types of energy-efficient appliances; the subsidy varying from 8 to 20 percent in accordance with different energy efficiency grades.
Chinese consumers have shown they are willing to buy - they recently spent billions of yuan on a single online shopping day - so the government subsidies are likely to spur spending on such appliances. This will help fuel domestic consumption.
The resumption of such green subsidies - Beijing offered similar financial subsidies for individuals and companies buying energy-efficient appliances between 2011 and 2013 - will also be good news for Chinese manufacturers who are struggling to survive the ongoing slowdown. The latest statistics show that the profits of major industrial firms fell 4.6 percent year-on-year in October.
However, the Volkswagen emissions scandal should remind local policymakers of the necessity of making sure that the subsidized goods are really as green as claimed.
Yet the ultimate reason why the Beijing municipal government needs to introduce green subsidies is because the city's poor air quality and other environment-related challenges demand immediate responses. In two years, the city plans to implement the world's strictest emissions standards, but it needs the active participation of producers and consumers to win the war on pollution.
It is to be hoped that generous green subsidies as well as aggressive energy pricing reform will change production and consumption behavior fast enough to ease the environmental crisis.