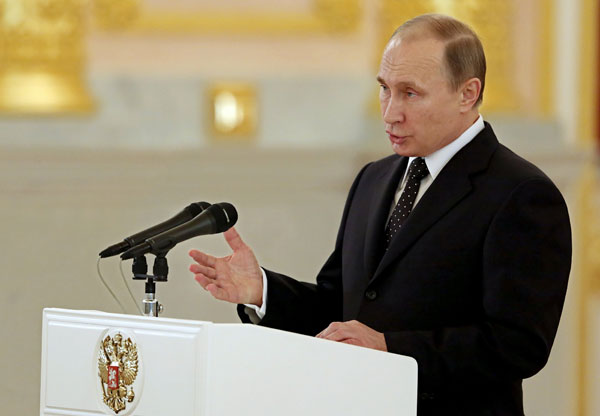 Russia's President Vladimir Putin delivers a speech during a ceremony to receive diplomatic credentials from foreign ambassadors at the Kremlin in Moscow, Russia, November 26, 2015.[Photo/Agencies]
In response to Turkey's shooting down a Russian war plane near the Syrian Turkish border earlier this week, Russian President Vladimir Putin signed a decree on Saturday imposing economic sanctions against Turkey. These include a ban on charter flights between the two countries and import restrictions on certain Turkish goods. Russian tour operators have also been asked to stop selling trips to Turkey, normally a top holiday destination for Russian tourists. Comments:
Russia and Turkey have different purposes in their interventions in Syria and the fight against the Islamic State group. Ankara is trying to crush the outlawed Kurdistan Workers' Party and protect the Turkmen forces in Syria. Moscow, meanwhile, wants to secure the incumbent Bashar Assad administration, a traditional ally of Russia, and so is against the opposition forces in Syria.
That their relations went sour over the downing of a Russian warplane on the Syrian border, not only mirrors the intertwined interests of all the parties concerned, it is also a big relief for US President Barack Obama.
The tensions between Russia and Turkey have demonstrated the complexity of the issues in Syria, which might help him to silence some Republicans at home who accused him of doing little in the region, and it has emphasized the need for stronger Western solidarity, allowing Washington to shift some of its responsibility for the anti-terrorism fight to other allies.
Shi Zehua, an associate professor of international relations at Beijing Foreign Studies University, Nov 27
So what should the United States and European NATO members do? It will help not to overreact or to treat Russia as an implacable foe.
But Russian efforts to shore up the regime are not entirely counterproductive. It is not in the West's interests to see the regime ousted before a viable alternative is ready to step in. The IS extremists, who depend so much on perceptions of their momentum, are not in a position to gain control over Damascus and declare a caliphate in reality as well as name.
The conclusion is that the US, Europe and the Arab countries opposing IS should use this incident as an opportunity to further influence what Russia does, not as an excuse to isolate or humiliate it.
Richard Haass, president of the Council on Foreign Relations, Nov 25