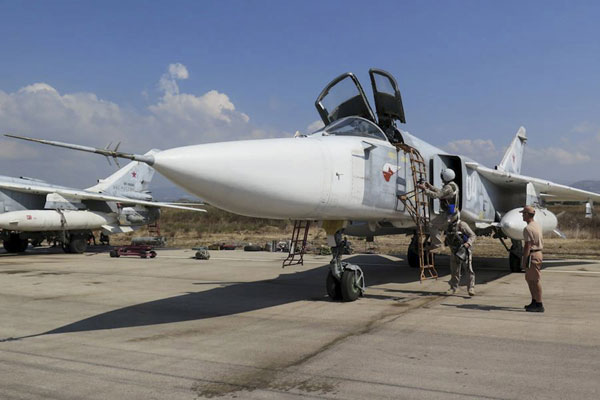 Pilots of a Russian Sukhoi Su-24 fighter jet prepare before a flight at the Hmeymim air base near Latakia, Syria, in this handout photograph released by Russia's Defence Ministry October 5, 2015.[Photo/Agencies]
The shooting down of a Russian fighter jet by Turkey on Tuesday is a most unfortunate incident, which has raised global concerns over the fallout between the two countries. This indeed is a testing time, but all sides concerned have to exercise restraint because their fight is against a common enemy: terrorism.
Russia's indignation and outrage are understandable. The incident resulted in the first Russian casualty by a NATO member, and Russia has already paid a dear price for fighting the Islamic State group in Syria: the bombing of its passenger plane over Egypt's Sinai desert on Oct 31 by terrorists affiliated to the IS that killed all 224 on board.
There is need, therefore, to avoid any similar incident so that all the forces fighting the IS group can stay focused on their mission, instead of making things difficult for each other.
Russia is already a strong force in the fight against terrorism in the Middle East and its air strikes have helped curb the IS group's advance. After the Paris terrorist attacks, Russia has increased the frequency of its air strikes on IS targets and strengthened its cooperation with France.
There have been signs of rapprochement between the West and Moscow since tensions rose over the Ukraine crisis. More such positive developments are needed to strengthen the global fight against terrorism.
Although Russia's influence in the region may be disturbing to some in the West, the Paris attacks have changed the nature of the fight against terrorism as the world now feels an unprecedented urge to deal the IS a deadly blow which can be achieved only through the concerted efforts of all countries.
The UN Security Council passed a unanimous resolution on Friday authorizing countries to "take all necessary measures" to fight the IS group. It called on all UN member states to "redouble and coordinate" their efforts to prevent and suppress terrorist attacks by the IS and other extremist groups.
To avoid strategic misjudgments and unnecessary disruptions that may sidetrack the efforts of the forces fighting terrorism in the Middle East, all sides have to better coordinate their strategies and steps.
This is the time to shelve old feuds and deepen strategic mutual trust in order to succeed in what is likely to be a long battle to eliminate terrorism.