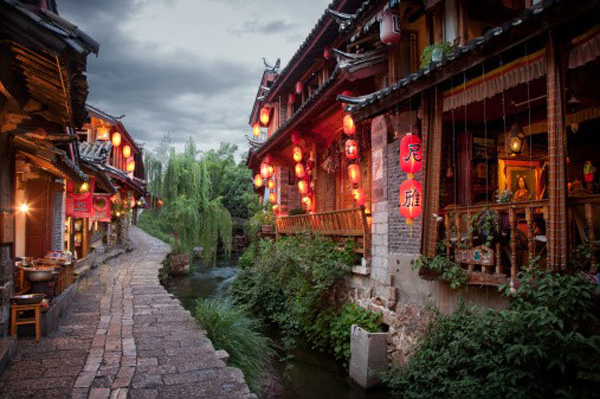 Lijiang, an ancient town in Yunnan province. File photo
The mayor of Lijiang Zhang Zejun conducted an undercover investigation in the city, a tourist attraction in Southwest China's Yunnan province, with the local public security chief recently. Afterwards, he said the probe showed that tourists were no longer being enticed to establishments charging exorbitant prices for alcohol. Lijiang Old Town, a local 5A-rated scenic spot, was given a warning last month by the National Tourism Administration and told to rectify problems such as overpricing and poor management of its tourism industry. Comments:
Objectively speaking, the Lijiang mayor's swift response to the warning from the National Tourism Administration, which he described as an "earthquake", is praiseworthy, since the local government has not only mapped out but also implemented a two-month rectification plan that has "zero tolerance" toward the city's tourism industry's misdeeds.
However, it is still too early to say the efforts over last month have succeeded. On the one hand, as Zhang admitted, the local government's inability to respond to problems and supervise the city's tourism industry dealt a blow to Lijiang's reputation as a popular tourist attraction. On the other, the lack of scientific and reasonable city planning is an even graver challenge to Lijiang, which has fallen prey to over-commercialization and disorder in the pursuit of profits and investments over the years.
In Lijiang's case, the longevity of the problem of "coerced" consumption of expensive drinks has a lot to do with the rising costs of running a bar, as well as the dog-eat-dog competition between bar owners. The deep-seated cause, however, is the disorder in the market and lack of proper regulation.
People may find it difficult to believe that the notorious bar business has been wiped out over the past month. It might prove to have gone under the radar before the mayor conducted his undercover investigation.
gmw.cn, Nov 10