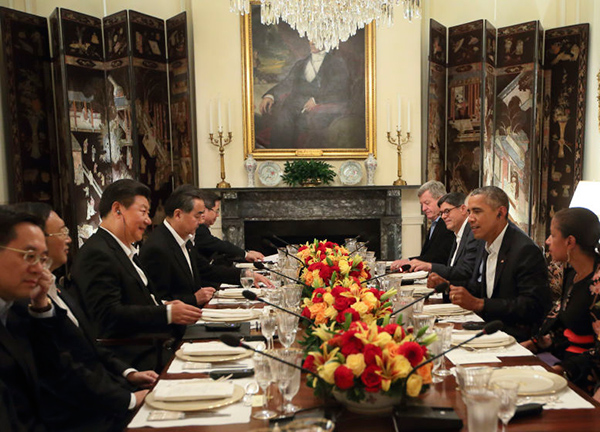 US President Barack Obama hosts a private dinner for Chinese President Xi Jinping at Blair House in Washington DC, September 24, 2015. [Photo by Lan Hongguang/Xinhua]
With Chinese President Xi Jinping arriving in Washington D.C. today for meetings with his U.S. counterpart, President Barack Obama, much speculation has focused on what will come out of the summit.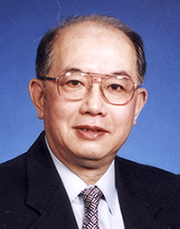 Amid the ever complicated bilateral relations, heavy media coverage, and thorny issues, such as cyber espionage, the yuan depreciation and disputes in the South China Sea, will the much-anticipated meeting between the world's two greatest powers make a real difference, or just be diplomatic etiquette that is business as usual? Behind all the hype and rhetoric, will the presidential "face time" produce any tangible deliverables?
The popular narrative in the United States is that Xi's trip won't change anything in terms of the bilateral relations and disputes; whereas the Chinese press has been consistent in voicing high expectations for the summit.
In my view, both takes are lopsided. Based on my observations over the last couple of weeks, I believe Xi's trip could produce some major deliverables, at least some tangible results to showcase. Otherwise, both Beijing and Washington will have a hard time countering the public perception that the bilateral relationship is at a critical tipping point and will take a turn for the worse.
The summit will further chart the course of the China-U.S. relationship, particularly the new model of major-country relationship, and discuss practical cooperation, while substantive results will come out of that. That is the official wording from China's Foreign Ministry.
My observation is that economic cooperation will be the major issue topping this summit's agenda. More specifically, I expect some new progress should be made on the bilateral investment treaty (BIT) talks.
From what I have learned over the last couple of weeks, negotiations took place both in Beijing and Washington, respectively, right before Xi's visit. And I learned that the Chinese side has made tremendous efforts in taking the BIT talks to the next level, although I cannot say too much about the specifics.
In addition, last Wednesday, six days before Xi's trip, 92 CEOs of major U.S. firms jointly wrote a letter to the Chinese president and his U.S. counterpart, calling for a high-standard, substantive negotiation on the BIT. The BIT could be quite beneficial in terms of unlocking new opportunities and leveling the playing field for U.S. firms and investors.