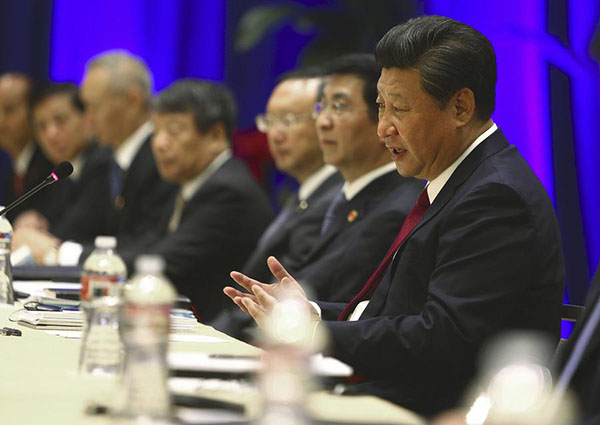 President Xi Jinping (R) begins talks with a local delegation of officials in Seattle, Washington, September 22, 2015. [Photo/Agencies]
This year is an important year for American politics. Candidates of the two major political parties are campaigning for nomination of their party for the presidential election next year. As usual, many candidates are playing the game of blaming China for the U.S.' problems to win popular support. In this context, some American scholars and media commentators are also publishing articles and books criticizing China, creating a social climate in the U.S. that the U.S. has been victimized by Chinese competition in the last few decades.
President Xi's state visit to the U.S. amid these disconcerting voices will be critically important for the Sino-U.S. relationship. President Xi's first stop is Seattle, and his meeting with leaders of major U.S. multinational corporations will highlight the importance of Sino-U.S. cooperation in the high tech field. The U.S. high tech corporations have benefited tremendously from exporting to China, and in the future they will need the Chinese market more than ever before. Without the Chinese market, U.S. economy will suffer a huge recession right away.
The last few decades has proven that China and the U.S. have developed a mutually beneficial and highly interdependent relationship in the fields of high tech and trade relationships. If the U.S. and China cooperate, both sides will benefit, and the whole world would benefit as well. If the two sides stop cooperating with one another, both sides will suffer and the whole world will suffer as well. U.S. politicians need to appreciate China's importance for the wellbeing of the U.S. economy and the American people, and stop making irresponsible remarks about the Sino-U.S. relationship for the short term gain in the election.
Since President Xi came to office, the Sino-U.S. relationship has made important breakthroughs. The ten year multiple entry visas to the citizens of both countries is one of these breakthroughs. The citizens of both countries benefited from these new visa policies tremendously. As a result, the number of Chinese citizens visiting the U.S. has increased significantly. More and more Chinese people come to invest in the U.S. and the number of workers employed by the Chinese firms in the U.S. has risen significantly.