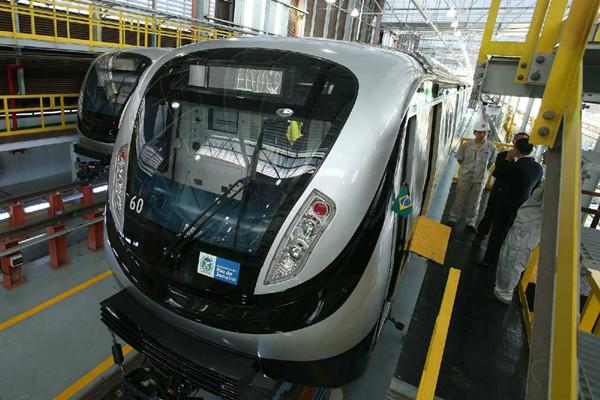 The new train is manufactured by China's CNR Corp. The Metro Line 4 is the latest example of China's efforts to export its industrial production capacity. It is due to start operations in June next year, in time for the Olympic Games. [Photo/english.gov.cn]
A recent Financial Times report forecast that China's changed manufacturing pattern might have a significant influence on the global manufacturing sector and accordingly on the global trade pattern.
Whether or not such a forecast will become reality is yet to be seen, but the prediction does show that the ongoing transformation and upgrading of China's manufacturing could have a far-reaching impact on the restructuring of global supply and value chains.
From the perspective of international division of labor, the key to an emerging country's manufacturing transformation and upgrading is how to realize a shift from the low end of the value chain to the middle and high end. Over the past decades since the launch of reform and opening-up, China's manufacturing has increasingly displayed its ability to achieve such a transformation by taking advantage of the opportunities brought by globalization, actively integrating itself into the global labor division system and utilizing markets and resources at home and abroad.
In the process, China's manufacturing will face pressures from the accelerating re-industrialization strategies adopted by the developed countries, particularly the United States, and the lower-cost manufacturing of other emerging markets.
China should, therefore, continuously deepen its institutional reforms to sharpen its competitiveness edge and draw up a well-conceived, long-term strategy for its manufacturing sector.
The above is an abridgement of a People's Daily article published on Thursday.