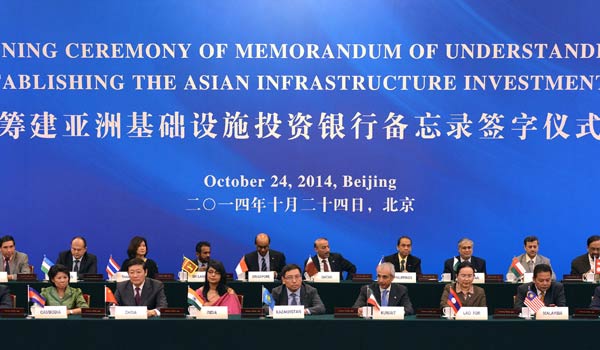 The signing ceremony of memorandum of understanding on establishing the Asian Infrastructure Investment Bank (AIIB) is held in Beijing, Oct 24 2014. [Photo/Xinhua]
One of the most prominent features of Asia since the victory in the world's anti-fascist war is the independence of countries that once suffered heavily from imperialist aggression, including China, and their sound efforts toward development.
Despite being restricted by the "balance of terror" during the Cold War, Asian countries' development and mutual cooperation have made the region the most vigorous in the world.
Accelerated development has promoted regional integration and led to a growing awareness that Asian countries form a "community of shared destiny". Asian nations have increasingly realized that the status quo of the past that favored the Western powers can no longer address their problems. Such a perception has prompted Asian countries to seek a cooperative model that can meet their peace, development, cooperation and win-win demands. Asian countries have gradually formed an "Asian manner" based on mutual respect and consultations, as President Xi Jinping puts it.
From an economic perspective, the "Asian manner" is an open and mutually beneficial development model. The booming regional and sub-regional cooperation mechanisms and cooperative platforms, such as the newly established Asian Infrastructure Investment Bank, have created opportunities for broader cooperation between Asia and the rest of the world. Politically, the "Asian manner" has also cultivated a partnership on a cooperative and win-win footing among regional countries.
On security issues, the "Asian manner" has pushed Asian countries toward the settlement of disputes through peaceful talks. The Conference on Interaction and Confidence-Building Measures in Asia and the Shanghai Cooperation Organization mechanisms, along with others, embody the shared will to maintain regional security and stability.
The exploration for the "Asian manner" will continue to face challenges ahead, but this will not change Asian countries' pursuit of a development road suitable for their conditions.
The above is an abridgment of a People's Daily article published on Tuesday.
(China Daily 06/17/2015 page8)