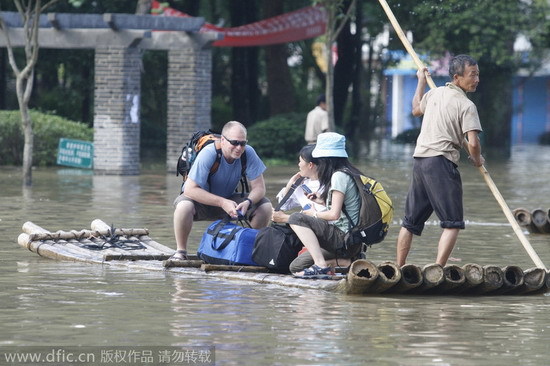 Vistors sit on a bamboo raft on a flooded street after heavy rain, in Yangshuo, south China's Guangxi Zhuang Autonomous Region, June 13, 2008.
Many Chinese people want a foreigner to be their friend; however, often cultural differences block such interactions.
But, if you ever are trying to befriend a foreigner and if you find them somewhat cold or hard to approach, here are some suggestions.
The don'ts
Asian stare
As a foreigner living in China, especially in Harbin, one of the first things you notice is the Asian stare as I have come to call it. The action that Chinese (or Asians in particular) have come to do whenever they see a foreigner within 50 paces. They do this action where they just drop everything and stop to stare, it's like you have just walked out the house naked, gonads and all on display for all to see. For me, this is a very disconcerting feeling that still to this day makes me feel somewhat uncomfortable in China. I have noticed this is especially particular to Harbin, which is where I currently live. More culturally diverse cities like Beijing and Shanghai, such occurrences occur less often. However, if you stare at me like I'm the new iPhone 6, I can assure you I will not want to be your friend and will instead run away for fear that you are going to tap my face repeatedly in a bid to play the new angry birds game.
Free English class
I know many Chinese people are looking to learn English and so for many finding a foreign friend in particular a British, American, Australian, or New Zealanders is a big advantage. It's a quick step to speaking fluent English and it can often be fun and, more importantly, free of charge (Or maybe the price of a coffee). However, when we come to China to make friends we want to make genuine friends, and it doesn't feel like that when your opening line is "You speak English, can you teach me?" If you really want to make friends with a foreigner, take an interest in what they are doing, take an interest in them. Same goes for foreigners, I know a few foreigners who just have some "Chinese" friends to practice their Chinese. Remember, we are all people and we shouldn't be using each in this way. Instead we can first take an interest in the person and then practice whatever language we want to practice once we get to know each other. the end objective should be making friends, it shouldn't be using people for your language practice.
Being too forward
Sometimes I have found situations where I begin chatting to a Chinese person in the street randomly and they all of a sudden ask after 10 seconds of conversation "Can I get your phone number" and to me, it feels like something is not right. This is how thieves operate. Now I know that it's just over-eagerness to make a friend but remember, when you go to a new country you are always on the look out for some trying to rob you or rip you off. This sort of attitude makes many foreigners nervous about giving out the number or they may give you it out of politeness but in reality they do not plan on having any future contact with you. Another thing is telling us that you miss us after five minutes of meeting you, this is also a touch on the creepy side and it will not get you anywhere.