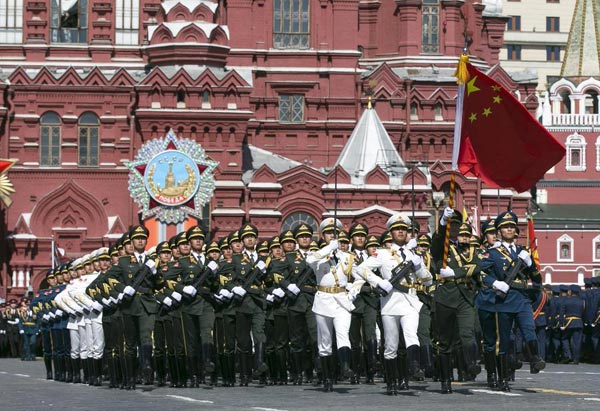 Chinese servicemen march during a rehearsal for the Victory Day parade in Red Square in Moscow, Russian May 7, 2015. [Photo/Xinhua]
On Saturday, Chinese president Xi Jinping attended the military parade in Moscow marking the 70th anniversary of the victory in the Great Patriotic War (1941-45). A Chinese guard of honor, consisting of 102 members, joined the parade and marched through Red Square. Comments:
This is the first time a Chinese guard of honor has participated in a Russian Victory Day parade; obviously, China was showing its respect for the important event. However, that's not the only reason for China to do so. It is important for the world to learn more about World War II from a non-Western angle. Even today, European centrism still dominates the global narrative of WWII. Sept 3, or the true end of the war, is not so well-known as Victory Day in Europe, and while Jan 27 is International Holocaust Remembrance Day, the remembrance day for the victims of the Nanjing Massacre, Dec 13, is hardly attached the same importance. China needs to makes its voice heard about a full picture of WWII.
People's Daily, via WeChat, May 10
Western leaders failed to appear at the parade. On the contrary, NATO held several military exercises in countries neighboring Russia, which shows the divergence between Russia and the West. During the Cold War, the United States and the Soviet Union always joined hands on Victory Day to show they could unite against evil despite their confrontation. The Western leaders' absence in Moscow on May 9 reflects the lack of a shared perception of the world today.
ifeng.com, May 8
When Western leaders refuse to attend the parade in Red Square and the US strengthens its alliance with Japan, it shows the world has entered a period with many uncertainties and variables.
Southern Metropolis Daily, May 6
Amid the global economic slowdown and Russia's "look East" strategy, the new overland and maritime Silk Roads proposed by China will strengthen its friendship with Russia. Mutual political trust and economic cooperation will hopefully improve after the parade.
CCTV News, May 8