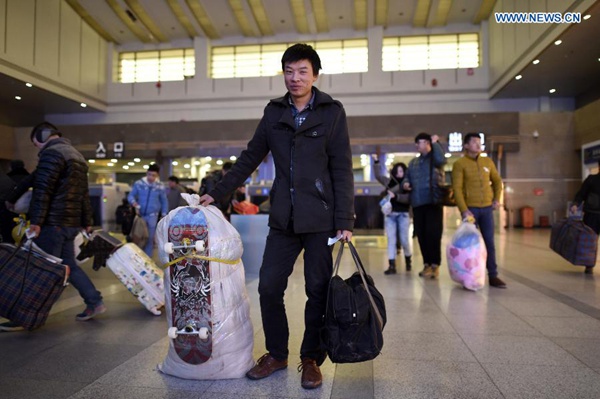 A man presents a skateboard he bought for his son before boarding his train home at the railway station of Hangzhou, capital of east China's Zhejiang province, Feb 3, 2015.The 40-day travel frenzy known as "Chunyun", the hectic period surrounding Chinese New Year, or Spring Festival, which falls this year on Feb 19, will begin on Feb 4 and last until March 16. [Photo/Xinhua]
Three days into the 2015 Spring Festival Transport Season, millions of college students and migrant laborers have hit the roads heading home.
As the Lunar New Year's Eve draws closer more will join the migration.
The Ministry of Transport is anticipating an overall holiday-season passenger flow of more than 2.8 billion person-times, a 3.4 percent growth over 2014.
With more high-speed railways in commercial operation, the journey home may be easier than it used to be. Yet despite all the increases and improvements in capacity, the abrupt rise in passenger flow remains backbreaking for the national transport network.
In the weeks to come, as an annual routine, we are guaranteed to hear complaints about the difficulty of getting a ticket home and stories of scalper speculation.
From the perspective of transport capacity, there seems to be an unsolvable conundrum: Without a substantial growth in transport capacity, people will always have to suffer to a greater or lesser extent for the most anticipated trip home of the year; but such growth means a tremendous loss for the transport sector, because such a passenger flow is only a once-a-year phenomenon that lasts just weeks.
The real solution, therefore, lies beyond the transport sector.
One obvious option is to make today's migrant workers permanent residents of where they are employed. And this should not be an expedient meant only for easing the pressure on the national transport system. It is a moral obligation the government has not yet fulfilled.
The central leadership has pledged repeatedly to integrate migrant workers, mostly rural laborers working in cities, into their places of employment, which is also considered an integral part of the country's urbanization program. But the promises of equal footing with urban residents have sounded hollow with local authorities grudging extending to them equal benefits.
That is why, in addition to the troubles for the unattended left-behind family members, the workers themselves are virtually homeless in their place of work. And for many of them, Spring Festival is the only opportunity for a family reunion after a long year's hard work.
For them, the joy of joining loved ones at the most important holiday of the year is always mixed with the hopelessness about the long separation they suffer one year after another.
Allowing them to truly settle down as permanent urban residents and bestowing them equal welfare will do more than easing the burden on our transport network.