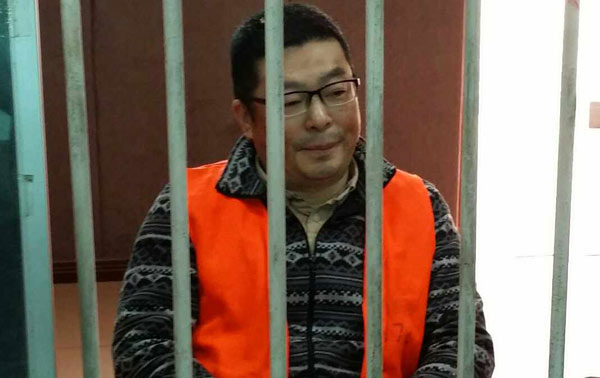 Leukemia patient Lu Yong in jail in Yuanjiang, Hunan province, in January 2014, after he was detained by police for allegedly selling counterfeit drugs. Hong Kefei / for China Daily
A Chinese leukemia patient named Lu Yong, who was arrested for reportedly purchasing unlicensed anticancer drugs overseas for himself and other patients via an illegal credit card, was released on Jan 29 in Yuanjiang, Hunan province. Comments:
The key concern in Lu's case should be related to a common institutional dilemma in the country, rather than the clash between more than 300 leukemia patients' appealing for his pardon and the current law deeming his purchase illegal. If they are still unable to enjoy support system, the release of Lu will not make much difference to their treatment because of the problems of the costly imported drugs and limited coverage of the medical insurance system.
Beijing Times, Feb 1
By withdrawing the previous prosecution against Lu Yong, the Yuanjiang prosecutors made a wise decision based on the law, instead of being affected by the moral factors involved. Landmark as it might be, this case is unlikely to make a legal precedent as it means that Lu's overseas purchases and similar conduct will face the same legal risk as they are now.
Changsha Evening News, Feb 2
The exemption of Lu reflects that there is some humanity in China's judicial system. The compulsory licensing for patented medicine, which is widely acknowledged and adopted in many countries, allows governments in emergencies to authorize local drug enterprises to produce the patented drugs, without their developers' permission. Should China take advantage of this rule without being restricted by its rigid law, Lu's case would not have happened.
rednet.cn, Feb 1