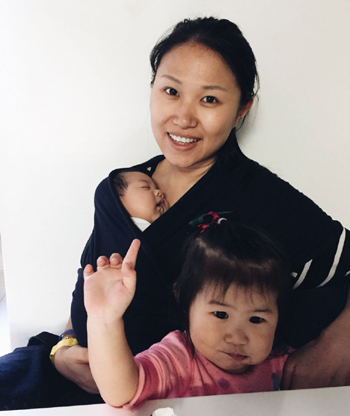 Li Qiao is a full-time mother of two kids. She's among the first group of moms to have two children since the implementation of a policy in Beijing that allowed parents to have the second child if one of them was the only child.
My biggest joy was the birth of our second child, and my biggest regret was having the second baby too soon. It's a rational choice to have two kids because it's good for both children, and it's better if their births are closer to each other. So I decided to have my second child when my first was one year old. Though I knew that babysitting both would be hard, it's a reality that I must face, and I was aware that I would get past it by grinding my teeth. I'm tired now, and the jealousy from the senior is getting stronger. My heart tears apart when I see her unhappy, especially when she makes some strange requests and is unreasonably difficult. But I've to put up with all these things every day. The sister is happy to see her little brother, but not happy to see us together.
I will remain a full-time mother in 2015, and have no plan to work in near future. For 2015, I have three goals. First, I want my elder kid to be more independent, and be prepared for her preschool. Second, I want my younger kid to be healthier by exercising more. Last, I want my kids to be happy with each other and stop being jealous.