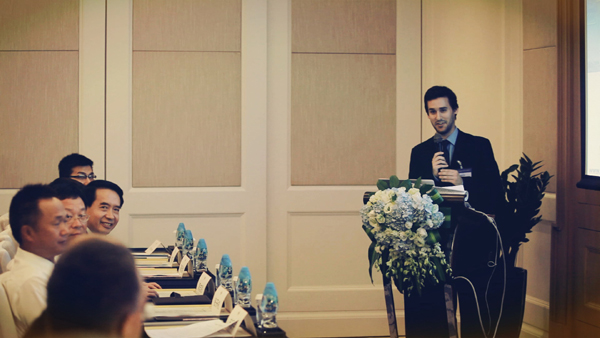 Nicolas Santo presents information about Foshan city to foreign investors in Shenzhen, Guangdong province.
Nicolas Santo is an investment consultant with the Foshan Bureau of Commerce.
The Year of the Horse was certainly one of the best of my life. I continued to develop my China-focused career. When I started to work with the Foshan Bureau of Commerce, I immediately realized this was going to be a life-changing experience. China is re-shaping the world as we know it and having the opportunity to witness this process from within the Chinese government is fantastic. I believe our work has been very successful so far. The international team I lead, together with our Chinese colleagues, managed to attract the attention of global media and, as a consequence, people from all walks could learn more about business opportunities in the PRD. We have also been in touch with dozens of foreign businessmen and women who are planning to invest or expand their China projects, carefully listening to what they have to say. From a personal perspective, I got engaged on Christmas's eve. A romantic closing for a year that was sweet in many aspects. Regrets? As Frank Sinatra sang, "too few to mention".
If the Year of the Horse was an exhilarating one, I believe the Year of the Goat will be even more, both personally and professionally. Our team has already prepared a work plan with over 25 initiatives to improve Foshan's business climate. I believe it is very powerful and it will help the city to become a better location for foreign investors. It will also help the local government support Chinese companies to "go global". I would also like to become more engaged in the local community and likewise, engage the community in our work even more. For example, we are planning to arrange kids from local schools to visit Foshan New City - the new downtown- on weekends, so that our international team can introduce them to what this amazing development is about. Ultimately, they will be the ones with the task of building an even stronger Foshan in the future. I feel this will be energizing. Personally, traveling across the country tops my to-do list. I've recently visited Yunnan for the first time and, undoubtedly, it is one of the most beautiful places I've ever been to. I can't wait to discover more of China.