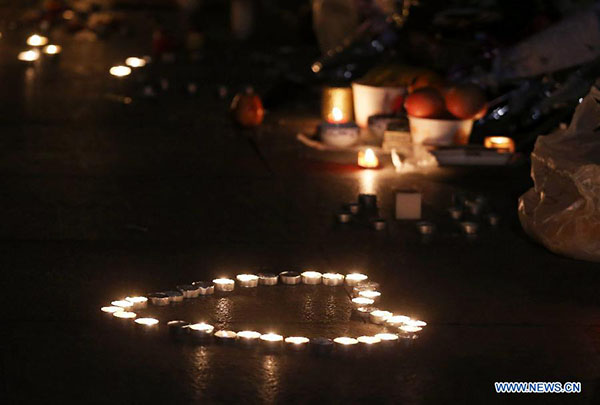 Candles are put in a heart-shaped layout by citizens to mourn for victims of a stampede in east China's Shanghai, on the early hours of Jan 3, 2015. Many citizens and tourists went to the Bund of Shanghai to mourn for victims after a stampede on the night of Dec 31, 2014 which left at least 36 people dead. [Photo/Xinhua]
Apart from praying for the victims of the Shanghai New Year's Eve stampede on Tuesday, which is the seventh day, a traditional day to mourn the dead in China, thinking about how such a tragedy can be prevented in the future is a must.
It has been suggested that the uncivilized behavior of some people in the crowd was primarily responsible for the tragedy. However, such accusations do not hold much water as such stampedes have happened in many countries and they have little to do with the overall nature of the crowd.
While it is necessary to raise people's awareness of how they should act in such a crowd, it is even more important to look at how such crowds should be managed, what arrangements be made and how they be applied to special occasions for easy and safe evacuation of big crowds.
These findings should be included in "lessons to be learned from the tragedy", as were echoed by Shanghai Mayor Yang Xiong during his reflection on the gravity of the tragedy with local lawmakers on Tuesday.
A thorough investigation into the Shanghai tragedy needs to be conducted to find out what exactly was the direct cause of the panic in the crowd, and why emergency responses should fail so sadly. It is necessary to interview as many people as possible who were there to find out exactly what happened.
Moreover, it is worth digging out whether the local government leaders, those directly in charge in particular, were aware they had the responsibility of ensuring that the assembly was well organized. There was not even enough monitoring of the swelling number of people on the Bund that evening. It was too late when people in the crowd started to search for a way out.
Apart from doing a better job in consoling the families of the victims, the local government needs to clarify in detail what it has to do in future to avoid any repetition of the tragedy.
The mayor's vowed moves to adopt contingent preparations for flow of big crowds and major occasions are a late but necessary beginning of what the municipal government should do for people's safety. To ensure they are applied properly and punish the irresponsible is the next. The authorities in other cities need to be aware of this as well.