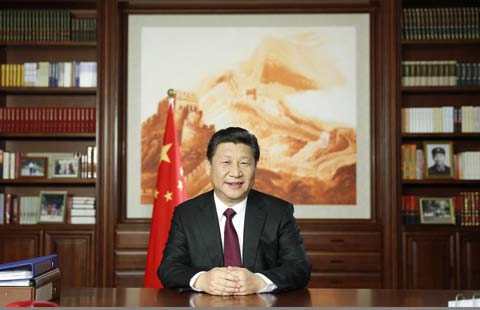 Chinese President Xi Jinping delivers his New Year speech via state broadcasters in Beijing, Dec. 31, 2014. [Photo/Xinhua]
Chinese President Xi Jinping has used a popular Internet phrase "giving it one's best shot" to praise officials at all levels in his New Year Speech. President Xi said officials at various levels had given it their best shot and "spared no efforts performing their duty. Of course, those achievements would not have been possible without the support of the people. I would like to salute our great people."
This popular phrase used by Chinese netizens is a vivid reflection of the momentum of the achievements made in deepening reform in the past year. Just as President Xi said in his speech, in 2014 the government had pushed forward reforms with strong commitment, conquered many hardships and introduced a series of important reform measures closely associated with the interests of the general public.
All these breakthroughs could hardly be achieved without the efforts and dedication of civil servants at all levels .
The use of the Internet popular phrase in President Xi's speech reflects the top leader's approachable and amiable personality.