Li Na's era
李娜时代 (Li Na shi dai)
Li Na, winner of two Grand Slams and China's most successful tennis player, announced her retirement recently. But rather than the end era, the retirement of the once second-ranked women's tennis player signifies the start of the Li Na era because her legacy will encourage more youngsters to excel in the tennis world.
Li's success can be attributed to the basic training she received in the national tennis team as well as her decision to pursue her career independently when she thought the government-centered system could no longer help her fulfill her dreams. She made it possible for other tennis players to break away from the national sports system, often criticized for its bureaucracy, to build their careers.
But that does not mean that the national sports system restricts tennis players from realizing their potential. In fact, Li Na, who started playing tennis at the age of eight, has said in her memoir that she is grateful for the training she received during her years with the national sports system. "If I had relied solely on my family right from the start, I wouldn't have come so far in such a costly game and couldn't have built my own team," she has said.
Li's path to success is not necessarily a guideline for the next generation of Chinese tennis players. She chose the path which she though best suited her. And the example she has set for athletes - to choose their own managers and coaches - should not to be blindly copied by everyone. The national team has never forbidden its athletes from leaving the national sports system. But only extremely gifted and talented athletes who have the qualified people to train and guide them should opt for a career independent of the national sports system.
Li's retirement has left the tennis world poorer, and tennis fans are waiting for the rise of the next tennis star. But since not all tennis players can be like Li Na, players aspiring for success on the international stage have to cautiously choose their career paths.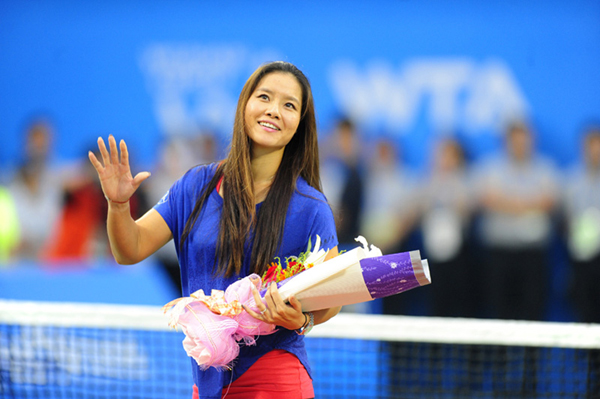 Chinese twice Grand Slams winner Li Na waves to the crowd during a brief retirement ceremony during the 2014 WTA Wuhan Open tennis tournament in Wuhan city, Central China's Hubei province, September 23, 2014. [Photo/Xinhua]