The missing MH370
失联马航 (shi lian ma hang)
Since Malaysian Flight MH370 has been missing since early Saturday after taking off from Kuala Lumpur for Beijing with 227 people and 12 crewmembers on board, 11 countries including China, the United States, Malaysia and Vietnam have launched joint air and sea search-and-rescue operations. The universal concern over the valued lives of the missing and sympathy expressed when tragic moments come are best demonstrated in this incident.
The urgent task is to find the plane and passengers, which requires all countries that participate in the rescue to strengthen their awareness to cooperate and enhance communication and share information.
In recent years, since the United States took a new  "Asia-pivot" strategy, territory disputes in the South China Sea between China and some of its neighboring countries have intensified tensions in the region. The joint search and rescue effort reflects the international humanitarian sprit, which shows that the countries and regions in this area are able to shelve disputes, enhance joint development and cooperation in humanitarian aid, and establish a win-win cooperation mechanism.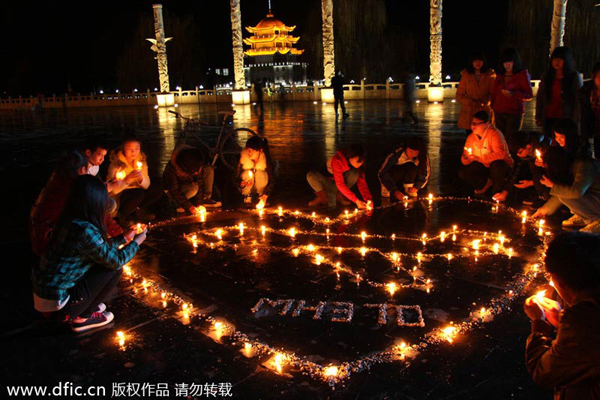 Candles are placed in the shape of a heart to pray for the passengers on the missing Malaysia Airlines flight MH370 in Yongzhoudao County, Hunan province, on March 12. [Photo/icpress.cn]