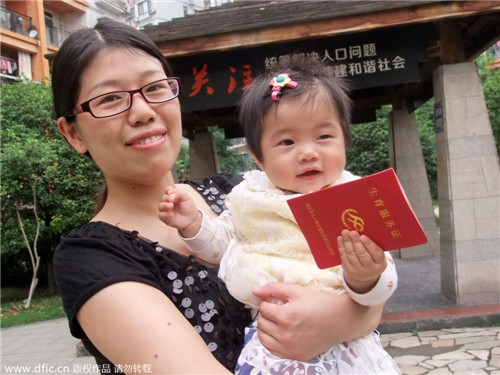 A child holds family planning service card. IC/Han Yuhong 
The National Health and Family Planning Commission has said it would continue to collect social maintenance fees, or fines paid by couples for having more children than the State allows, and there is no timetable for implementing the two-child policy. The commission's remark was in response to public concerns over the draft regulation on the issue which it has submitted to the State Council for approval.
"The fees will not be abolished because it would be unfair on couples who have abided by the family planning policy," Song Shuli, spokeswoman for the commission, said.
The commission's response has disappointed people seeking to have more than one child. It also means the decades-long family planning policy, under which a majority of couples can have only one child, will not be eased any time soon and the controversial social maintenance fees will continue to be imposed despite public opposition.
The social maintenance fees, introduced along with the family planning policy in the 1980s and which got its current name in 2002, is believed to be an effective way of punishing couples who violate the family planning policy. But the fees have long been surrounded in controversy for lack of transparency and breeding corruption. Many have denounced it as a means used by local governments to fill their coffers. According to rough estimates, more than 20 billion yuan ($3.25 billion) is collected annually in the name of the fees, and auditing departments have exposed many irregularities in its use in recent years.
The whopping fine imposed on film director Zhang Yimou early this year for having more than one child once again highlighted the issue of social maintenance fees. Zhang was ordered to pay 7.48 million yuan after admitting that he and his wife had had three children before they got married.