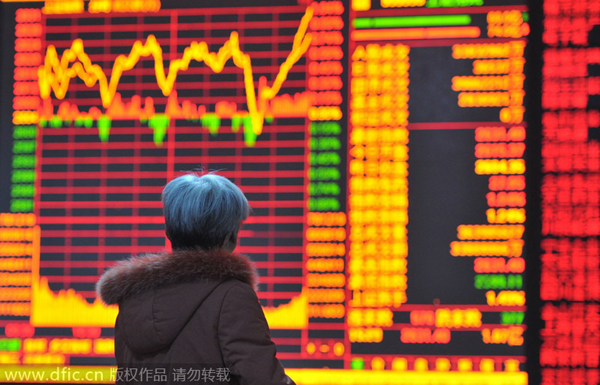 A Chinese investor looks at a stock index at a stock brokerage house in Fuyang city, east China's Anhui province, November 27, 2014. 
In the past, when the economy performed well, the stock markets fell. The current market has again surprised investors, however, by surging in recent months despite strong economic numbers.
In fact, the markets climbed above 2,650 during intra-day trading on Friday, after hitting the low of 1,991 in May.
Against the backdrop of weakening economic fundamentals, the surprising performance of the stock market has made many wonder why, and if the bullish market will continue.
There have been many explanations for the exceptional rise, but economic fundamentals are what count.
Months of economic weakening have driven China's GDP growth to as low as 7.3 percent in the third quarter year-on-year, the lowest since the global financial crisis. As a sign of the continued weakening, China's industrial production rose 7.7 percent year-on-year in October and its retail sales rose 11.5 percent compared to a year ago, both fell below market expectations.
The stock market has taken the bad news on the chin. The weakening may have been pre-reflected in the mediocre performance of the stock market in recent years. According to Goldman Sachs, stock markets in the Asia-Pacific region, including China, have failed to register major gains in the past four years thanks to a cooling economy.
In China's case, its benchmark Shanghai Composite Index has been fluctuating largely within a band of 2,000 and 3,000 for four years as investors are uncertain about where the economy was heading.
Starting this year, the weakening of China's economic fundamentals has become quite entrenched. More importantly, the policymakers have made their stance clear: There will be no major stimulus like the ones launched after the eruption of the global financial crisis. Instead, the country will stick to its reform, restructuring and rebalancing agenda to achieve a more sustainable growth.