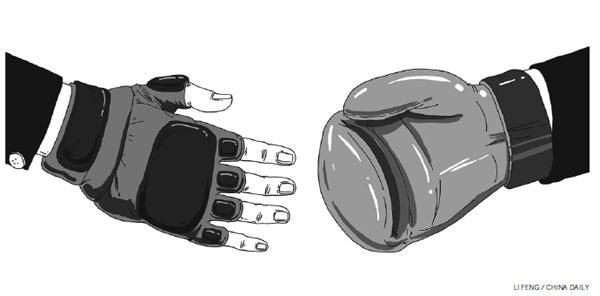 The US mid-term election, many observers say, could have an impact on US strategies and thus affect China-US ties.
President Xi Jinping proposed a "new type of major power relationship" between China and the US and US President Barack Obama agreed to it. But since the concept is unprecedented, China and the United States should endeavor to avoid worst-case scenarios in bilateral ties, even if they do not pursue the best. To strengthen the emerging China-US ties, therefore, the two sides have to clear the latent dangers on the path to global peace and prosperity.
The biggest concern in China-US ties is supposedly identity related - China's rise will pose a challenge to the US' second-to-none "patriotic" policy. To prevent this challenge and accommodate China's rise, Washington has to change some of its policies, including "American exceptionalism" and "manifest destiny".
But it should be clear that, despite its powerful rise, China is neither willing nor ready to take over the global leadership from the US, especially because it does not believe in hegemony. Thus an inclusive global governance, which requires Washington's experience as a global leader and Beijing's booming economic and strategic power, should be key to better China-US ties in the future.
Also, there seems to be a potential disconnect between the two sides when it comes to economic interdependence and the US-led world order. On the economic front, the US has still not been able to explain why it excluded China from its Asia-Pacific alliance after the global financial crisis. Moreover, will the "pivot to Asia" succeed in reducing Asian economy's dependence on the US? How far will Washington allow the internationalization of the yuan to proceed? Will Washington show more interest in Beijing's new Silk Road proposal, aimed at bringing Eurasian countries closer? The answers remain unknown.