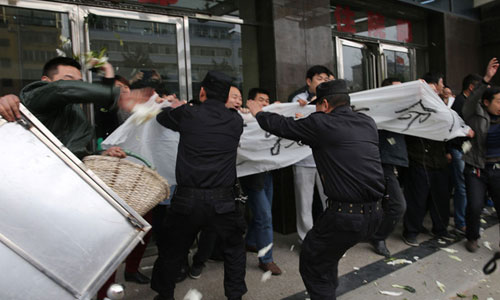 People playing the role of relatives of a patient in a simulation exercise at the entrance of a hospital building, shout and unfold banners, and clash with other participants playing the role of police and doctors, in Laohekou city of Central China's Hubei province, on March 19. The drill was initiated by the hospital and local police.[Photo/icpress.cn]
Disputes between patients and hospital staff have been making headlines in China in recent years, but mostly in the cities. Now, however, this hard-to-cure illness has spread to the countryside.
In this case, a local doctor was asked to go see a patient in a village in Shanyang county, Shaanxi province, in late June. While the doctor was treating the patient, he suddenly lapsed into a coma and died soon after, according to cn-healthcare.com, a Chinese-language health website.
Families of the dead patient said that the doctor should pay 710,000 yuan ($114,500) in compensation, then the local government intervened, and an agreement was reached whereby the doctor would pay 200,000 yuan, although there had been no investigation of whether he was to blame for the death.
Leaving aside the fact that the compensation was about 10 times the doctor's annual salary, the absurdity of he having to pay without an investigation to prove malfeasance was too much.
Nonetheless, the case is fairly typical of some Chinese doctor-patient disputes and it seems that the situation is worsening. In many cases, the hospital is asked to pay compensation before it has been proven responsible. If it refuses, the patient will use various means, such as disrupting normal hospital operations or appealing to higher medical authorities, to force the hospital to give in. The local government, which fears the dispute could affect social order, may also pressure it to agree to the patient's demand.
And when these disputes are settled through coercion, the doctors often feel wronged. They feel even more wronged in the few cases where a patient or the family kill the doctor, something that has been cropping up in recent years.
The patient, meanwhile, may also feel that they're in a disadvantageous position when they face the doctor and many attribute high medical costs to over-prescribed medicines. In any case, if a dispute arises, they don't trust the local adjudicator in the dispute, and argue that the person could favor the hospital and doctor since the two have a similar education and professional background and may be in cahoots with each other.
These soured patient-doctor relations could harm the interest of the patient and to avoid a dispute, the doctors will call for more medical checks before reaching a conclusion and use the best — often the most expensive — treatment to defend themselves if a dispute arises. The patient bears the costs.