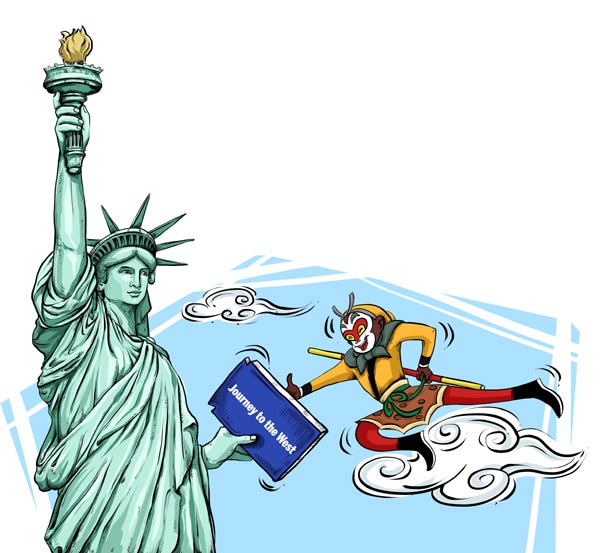 Wang Xiaoying/China Daily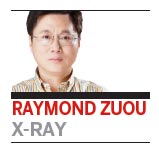 One of China's most loved literary characters will soon be reincarnated on US screens, and that's causing discomfort to quite a few Chinese.
The Monkey King, aka Journey to the West, is being adapted by the US cable channel AMC into a drama series and is slated to debut next year or in early 2016, under the name Badlands.
In one Chinese online poll, 29 percent of respondents saw the move as a positive sign that Chinese culture is being embraced overseas, while 33 percent hated it on the grounds that it will betray the original, and 35 percent viewed it as a positive trend, but feared it will lead to awful results.
As if to allay fears of a botched adaptation, AMC revealed that the Hong Kong-based Chinese actors-directors Stephen Fung and Daniel Wu have been hired for the production, but did not specify whether they'll be actors or consultants.
I'll bet that, for or against the US version, few are aware of the numerous treatments of this Chinese classic outside China. That means it's not a breakthrough for Chinese culture into the wider global arena, and on the flip side, if it does flop, it won't be the first failure.
Browsing Wikipedia, I'll just give a partial list of some of the media adaptations, excluding those made in China. In television drama, there is a 1978-1980 Japanese series called Monkey Magic, which was later translated into English by the BBC. An anime version was launched during the same period that re-imagined the tale as a sci-fi space opera. In 1994, Nippon TV produced another series New Monkey. In 2006, Fuji Television made ratings waves with Saiyuki, which appealed to the youth crowd by casting pop idols in the major roles. The program spawned a hit film in lieu of a second season. In 1959, the Japanese studio Toho made a film entitled Monkey Sun, which was released internationally.
Outside Asia, NBC and the Sci-Fi Channel launched a four-hour mini-series called The Monkey King or The Lost Empire. Even though it incorporated major talents such as eminent playwright David Henry Hwang, this contemporary take on the classic adventure tale was lambasted by critics and totally ignored by audiences.
In the US and Europe, there have been many stage plays based on part of the novel. A musical I reviewed last year starred an African-American actor in the title role. It was produced by Tony Stimac, a Broadway veteran, but funded by a Chinese company. It was a Chinese production with global input and global ambition.
I'll admit that the first 10 minutes of Apollo Levine's appearance was a bit disorienting. Who in China would have thought that the diminutive monkey, usually covered by lots of yellow hair, could be embodied by a 1.85-meter-tall heavily tattooed black guy? But Levine was utterly convincing; he captured the spirit of Monkey, not just because he looked different from the rest of the cast but because he conveyed the role's inner self.
For more X-ray stories, click here