China's demographic dividends have been deteriorating since the early 1980s because of the family planning policy, under which most urban couples could have only one child. Among the problems it has created is the yawning gender imbalance.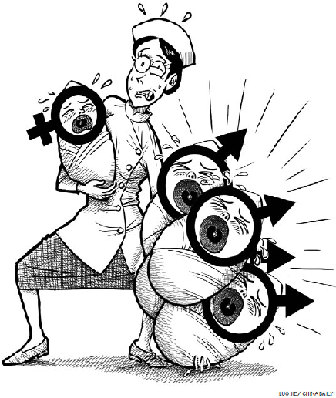 Before 1980, China had had a normal gender ratio at birth (about 102-107 boys born for every 100 girls). But after the family planning policy came into effect, an imbalance started becoming evident in the gender ratio at birth. In 2010, there were 119 boys for every 100 girls at birth; the figure for 2012 was 117.7.
The gender imbalance since the 1980s has created tens of millions of bachelors. In fact, from 1983 to 2010, more than 41 million more boys than girls were born, and from 2001 to 2010, an average of 1.3 million more boys were born every year.
According to the 2012-13 Survey Report on Chinese People's Love and Marriage Values, prepared jointly by the National Population and Family Planning Commission and popular dating website jiayuan.com, the ratio of unmarried men to women among the post-1980s generation is 136:100 - the ratio in the post-1970s generation is even more alarming 206:100.
China's sixth national census conducted in 2010 shows that about 11.96 million men in their thirties remain unmarried, while the corresponding figure for women is 5.82 million.
The effects of gender imbalance can be dangerous and long lasting. First, it indicates female feticide. Data provided in the 2012 China Health Statistical Yearbook show that about 275 million induced abortions were performed from 1980 to 2009, with the abortion of female fetuses being disproportionately higher.
Second, the problem created by "leftover" men at the grassroots and "leftover" women among the upper middle class and rich could lead to mismatched demographics and further reduce the fertility rate. "Leftover" refers to people who cannot get married for want of resources and/or ideal partners.
Third, the deepening phenomenon of leftover men could lead to sex-related crimes, disrupt the social order and increase the risk of social instability.
Leftover men are becoming a serious social problem, especially because most of them come from poor backgrounds. According to a study conducted by the Institute for Population Study and Development of Xi'an Jiaotong University in 2010, which covered 369 administrative villages across 28 provinces, there were at least nine bachelors with an average age of 41.4 years in every village.