Thirty-five years after setting off on the reform and opening-up path, China has reiterated the importance of protecting intellectual property rights (IPR) and encouraging innovation in its plans for the national economy and society.
The Third Plenary Session of the 18th Communist Party of China Central Committee issued a document on Nov 15, saying that IPR and innovation, among other areas, will be in focus in the coming years. The plenum also said that China would consider setting up a special IPR court, which would be an important development and show the importance the country's leaders attach to the effective protection of IPR.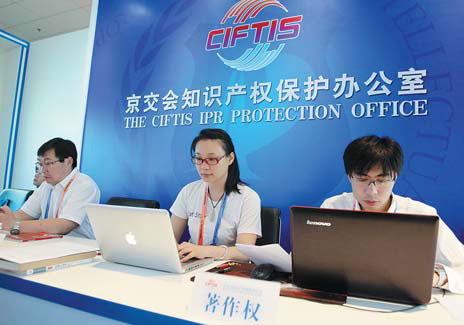 The IPR Protection Office at the fair helps deal with rights issues. Zhang Wei / China Daily
It is through innovation and creativity that countries succeed and prosper in today's world. Global competition now revolves around competition for IPR. And the competition is not only international, but also intra-national. The number of applications in China for innovation and design patents and trademarks (brands) shows that this is an important part of doing business in the country today.
Great progress had been made in developing the legal infrastructure to protect and enforce IPR since the Third Plenary Session of the 11th CPC Central Committee in 1978 signaled the start of the reform and opening-up process. An important part of that process was the introduction of laws for IPR protection through trademarks (1982), patents (1984) and copyrights (1990), as well as other rights such as geographical indicators and more general laws like the one prohibiting unfair competition (1993).