China will set up a State security committee to improve systems and strategies to safeguard national security, according to the Communique and Decision of the Third Plenary Session of the 18th Communist Party of China Central Committee. This should be seen as a milestone in China's modernization drive.
Deepening reform and opening-up have greatly improved the livelihoods of the Chinese people and made the Chinese economy the engine of global economic growth. But despite that, China is still in the primary stage of socialism and will remain so for some time to come. Even in the great cause of improving people's livelihoods and realizing social transformation, China still has much to accomplish.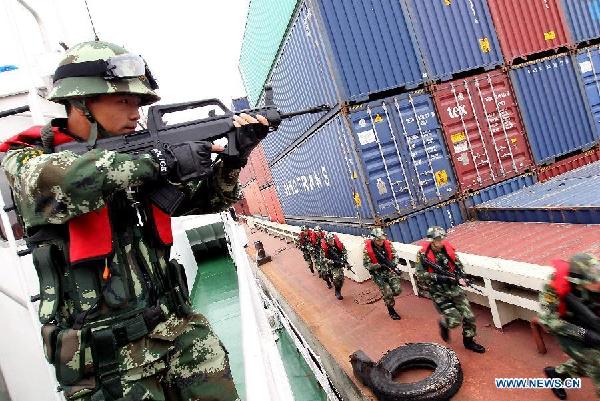 The local frontier policemen of the coast guard mission check a "suspected ship" during a security exercise aiming to enhance their capacity in emergency at the sea area near Shanghai Free Trade Zone, in east China's Shanghai, Oct 30, 2013. [Photo / Xinhua]
Therefore, the questions commanding China's attention are: How to bridge the gap between the actual levels of national development and people's expectations; how to improve the level of governance and ensure order and stability in society; and how to pursue harmonious coexistence with the rest of the world.
China's rapid rise, accompanied by its growing influence in the international community, has made it strong enough to safeguard its sovereignty and other core national interests. But the change in the global balance of power because of China's rapid rise has prompted traditional major powers to try and offset its influence in order to maintain the status quo. Sometimes the major powers' efforts jeopardize China's core national interests, complicating the international security landscape for the country.
Thus, it is time that China pursued institutional modernization in addition to its long quest of the "Four Modernizations", comprising agriculture, industry, national defense, and science and technology.