How to maintain a clean government? This is expected to be one of the main topics discussed at the upcoming Third Plenary Session of the 18th Communist Party of China Central Committee.
At the plenary session in 2003, regular inspections were listed as one of 10 in-Party supervision measures, this time the session will discuss ways of making the inspection teams, which at the moment are temporary, more effective in the long run.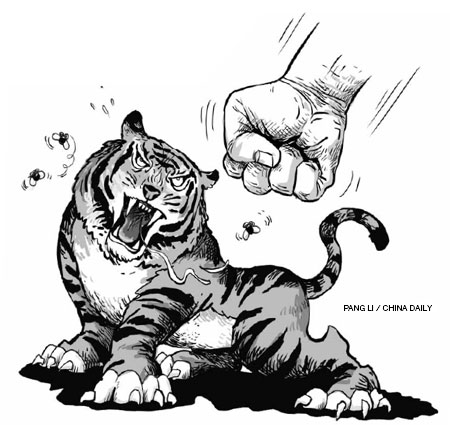 It is these teams, sent nationwide every year, that have uncovered considerable evidence of corruption, sometimes involving senior officials. A good example is Chen Liangyu, former Party leader of the Shanghai government, who was discovered to have appropriated social security funds since 2002. He was prosecuted and punished in 2008.
The inspection teams continue to do a good job. As part of the anti-corruption drive, the CPC Central Committee dispatched inspection teams to look for evidence of corruption and misconduct among Party members and officials at the provincial and municipal levels, and a second batch of inspectors, divided into 10 groups, have started inspections of designated government organs and State-owned enterprises.
However, the very fact that the inspection teams have uncovered serious cases of corruption implies loopholes in the anti-corruption system. Some of the cases discovered by the inspection teams have proved to be quite obvious, begging the question why the local anti-corruption commissions failed to spot them.
The answer is also obvious. Due to its deeply rooted traditional culture, China relies heavily on personal relations in society. The local anti-corruption staff, like other members of society, have all kinds of personal relations, some of which are no doubt important to them in their daily lives and work.
Therefore, they have many considerations while performing their duties. A common example is, as soon as they decide to investigate a suspected official, the anti-corruption officers will find their offices filled with people offering excuses for the offending official's behavior. Often some of these defenders will be so powerful that the anti-corruption officers cannot afford to offend them.