It is difficult to find a child in China that doesn't watch the Pleasant Goat and Big Big Wolf, because the TV cartoon series about a large goat family on "Qingqing Pasture" and a clumsy wolf trying in vain to eat them is telecast on almost all satellite TV channels. Soon after debuting in 2005, the cartoon series became a favorite with children. Considered a success story for domestic animation, it grabbed quite a substantial share of the film market during the especially competitive Spring Festival.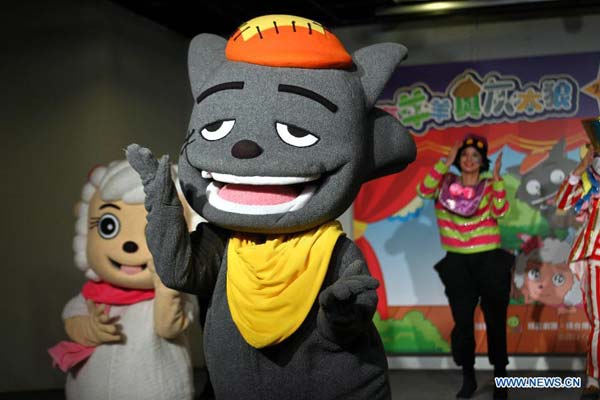 Actors dressed as cartoon figures of the well-known Chinese cartoon "Pleasant Goat and Big Big Wolf" perform at a press conference in Taipei, southeast China's Taiwan, Aug 14, 2012. [Photo / Xinhua]
But some of the harmful contents in popular domestic animations have created a controversy and sparked a public debate. Many say the story lines in these cartoon series are too intricate for children to follow and the violent scenes could be detrimental to their healthy development. Worse, some children have tried to imitate some scenes from the animations in real life leading to tragedy. Among the animations on the controversy list are the Pleasant Goat and Big Big Wolf and The Bear is Coming.
Earlier this year, a 5-year-old boy and his eight-year-old brother in Lianyungang, Jiangsu province, suffered severe burns when their 9-year-old friend tried to play out a scene from the Pleasant Goat and Big Big Wolf. Similar tragic incidents have been reported from other areas. So it is little wonder that earlier this month, Xinwen lianbo, the most watched news program on China Central Television, blamed TV cartoon films for the tragedies.
Internet users were quick to react to the criticism, sparking an online debate with some of them urging the government to adopt a rating system to protect children from the harms of violent cartoon films.