Indian Prime Minister Manmohan Singh's visit to China has elicited widespread media debates and commentaries much beyond the two countries. This is because these are the two largest and rapidly transforming countries and their mutual equation has global and systemic implications, which makes everyone a stakeholder in the success or failure of the visit.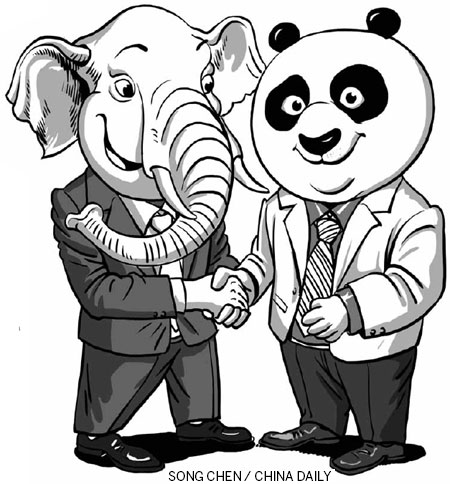 Besides, this is Singh's first visit after China elected its new leadership and possibly his last before he demits office after having served for the third-longest term as India's prime minister. This makes the visit one of vision and legacy, too. In this context, Singh's recent visits to the United States and Russia can provide a precedent to his visit to China. If anything, Singh's recent visits to foreign countries reflect his increasing impatience with slow decision-making in New Delhi and desire to fast-forward his initiatives.
But deep down, Singh shares the Chinese belief in being low on expectations and high on pragmatism, which, in fact, has been typical of his decade-long stewardship. His visit to Beijing, therefore, will be remembered for few small ground-breaking yet bold initiatives through which New Delhi would redefine its equations with Beijing. This almost imperceptible shift in India's China policy flows from a growing understanding among the Indian elite that China-India relations have become increasingly asymmetric and therefore old strategies of dealing with China need to be reviewed.
The two sides are expected to sign several agreements, including the Border Defense Cooperation Agreement proposed by China on eve of Premier Li Keqiang's visit to India in May this year. They are also expected to sign a framework memorandum of understanding (MoU) on facilitating China's supplies of power equipment for Indian power projects and also one on clearing the decks for Chinese investments in India through Chinese industrial parks (like special economic zones) in five Indian provinces, Uttar Pradesh, Gujarat, Tamil Nadu, Andhra Pradesh and Karnataka. The two sides are also likely to sign an agreement to expand cultural exchanges.