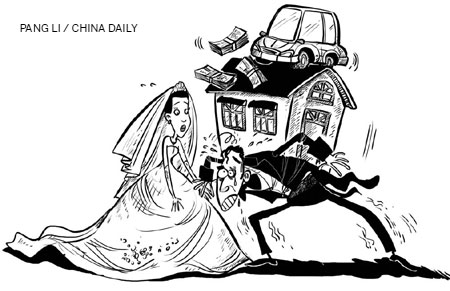 "How much does a wife cost in your province?" This seemingly ridiculous question was part of the greeting for many people during the just concluded "Golden Week" National Day holiday. Incidentally, the National Day holiday is the peak season for weddings in China.
According to Chinese tradition, a groom usually pays a certain amount of money to the bride's family to fix a marriage. The practice is prevalent throughout the country. A recent Beijing News survey shows that 89.1 percent of the newly married couples abided by the tradition.
In most cases, the amount men (or their families) have to pay the women's families is too big for most to afford. According to media reports and micro-bloggers, the "price" of marrying varies from 60,000 yuan ($9,804) to 100,000 yuan in central and western regions; it could be more than 100,000 yuan in most coastal provinces. Compare this with the average annual salary of 46,769 yuan in public enterprises and 28,752 in private ones in China in 2012.
The endowment amount is even higher in certain developed regions. For example, in provinces like Guangdong, a would-be groom must gift a gold necklace, gold ring and gold bracelet apart from the endowment money to the would-be bride's family. In cities like Beijing and Shanghai, a man could also be expected to purchase an apartment before marriage, and even a tiny apartment costs more than 1 million yuan. Add to that the price of a car in some cases.
In some parts of eastern Shandong province, the endowment money is measured by weight. For instance, to marry a woman, one must pay her parents at least 1.5 kilograms of 100 yuan notes, which would add up to at least 131,000 yuan, according to some bankers.