The fact that the United States and China unfolded their gigantic national healthcare reforms almost simultaneously is reflective of the daunting health policy challenges that most countries' governments are grappling with. Skyrocketing healthcare costs best describe the thorny problems testing policymakers' wisdom and determination.
While Obamacare (the healthcare system propounded by US President Barack Obama) has barely survived US Congress' obstruction and remains controversial, its Chinese counterpart has been running for five years at a considerably smooth pace.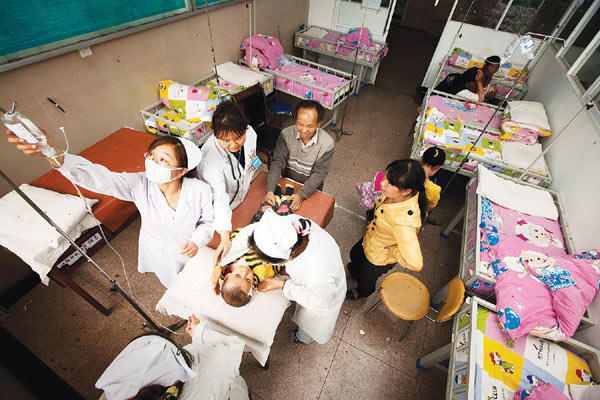 A doctor takes care of a young patient in rural China. China has a goal of providing universal healthcare coverage by 2020. [Photo / Provided to China Daily]
China had good reason to feel proud for having an internationally revered healthcare system before the 1980s. The system, however, experienced astonishingly rapid deterioration in the course of China's stunning economic rise. Dwindling government funding to public hospitals and rapid commoditization of healthcare prompted hospitals and doctors to pursue profits, something they had to count on for survival and income. Compounded by the shrunk insurance coverage in the 1990s, healthcare became increasingly unaffordable to most Chinese citizens. Costly medical bills impoverished many lower-income families. In a global ranking of healthcare systems by the World Health Organization, China's system was considered among the least equitable, which was shocking for a socialist country.
Luckily, it didn't take too long for the Chinese government to turn the tide. Most dramatic changes took place in the countryside. Thanks to the titanic financial injection, the newly launched New Cooperative Medical Scheme, a community insurance plan has brought more than 96 percent of rural residents under its umbrella. It is to be noted that before the pilot in 2003, less than 5 percent of the people were insured.
Behind the sizeable financial input into healthcare is the top leadership's strong commitment to social welfare. For instance, reports suggest former president Jiang Zemin's firm support played a decisive role in launching the NCMS. The rising position of healthcare on the government's agenda has also been translated into increased coverage of urban health insurance.
Different from the concept of insurance in many Western countries, the premium contributed by those insured in rural areas and cities are matched by substantial government subsidies, further relieving people's financial burden. This has provided additional incentive for lower-income people to join the insurance scheme.