Charity awareness
The drop in the total value of cash and goods donated to charities for the second consecutive year can be considered normal given the country's economic slowdown. However, there has been a noteworthy change in where the majority of donations have gone.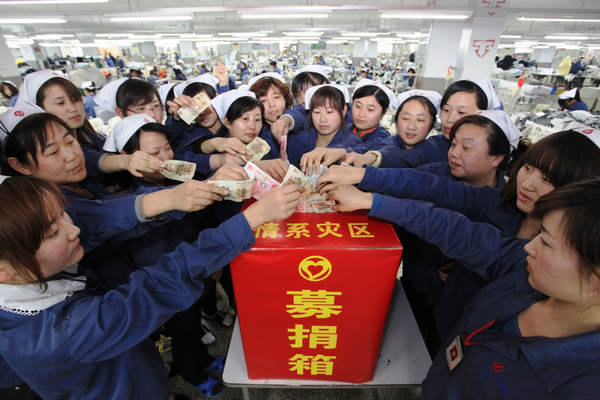 Textile workers from Jifa Group in Qingdao, Shandong province, submit donations for Yingjiang county in Yunnan province after an earthquake in March. The money was to be distributed through the Red Cross Society of China. [Photo/China Daily]
According to the annual charity report published by the charity information center under the Ministry of Civil Affairs at the weekend, donations in 2012 were down 3.31 percent on the previous year, dropping to 81.7 billion yuan ($13.34 billion), equivalent to about 1.6 percent of the country's total GDP.
With the country's economic growth rate slowing to 7.8 in 2012, 1.3 percent lower than the previous year, the annual drop of 3.31 percent in the total amount of donations last year point to Chinese people's reduced willingness to donate. While on average each person donated more than 2 yuan less than last year.
Of this, more than 50 percent came from enterprises, with none-State-owned companies contributing more than 50 percent of the total money and goods donated by enterprises, despite the fact that State-owned enterprises have a larger share of GDP. This suggests that State-owned enterprises need to have more awareness of their social responsibilities.
Seventy percent of donations went to social charity organizations, which was two percentage points higher than last year despite the drop in total donations.
However, the total amount of money and goods the China Red Cross Society received last year was 2.19 billion yuan, a decrease of 23.68 percent compared with the previous year. It is obvious that the country's largest charity organization is yet to shake off the negative impact scandals have had on its reputation.
What is particularly noteworthy is the role the Internet has been playing in raising money for charities. Large donations of more than 100 million yuan dropped from 41 in 2011 to 34 in 2012, but the number of small donations made via the Internet has rapidly increased, according to the report.
The greater transparency online suggests that an increasing number of residents are closely concerned about where and how their money is spent. Transparency about the management of donations makes a great difference to people's enthusiasm and willingness to donate.
(China Daily 09/23/2013 page8)