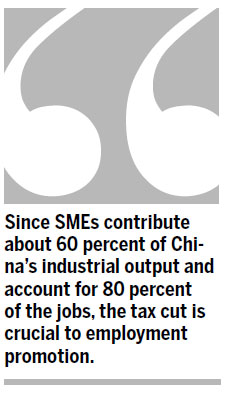 The suspension of VAT and turnover tax could benefit 6 million businesses, but steps should be taken to ensure they actually do
The business community has welcomed the suspension of value-added tax and turnover tax for small businesses with monthly sales of less than 20,000 yuan ($3,230) from Aug 1. The move was announced in a statement released after a State Council executive meeting, which was presided by Premier Li Keqiang, on July 24, and is another preferential tax policy to boost the development of small businesses.
The tax exemption is expected to benefit about 6 million small businesses and boost the employment and income prospects of more than 20 million people - and thus help stabilize the economy in transition. On the individual level, it can help a small business save between 600 and 1,000 yuan a month.
According to the Ministry of Finance, the tax exemption will amount to about 30 billion yuan, a small percentage of the total national tax revenue, which was about 10.6 trillion yuan last year. But despite that, it is expected to boost the morale of small businesses in times of economic downturn.
The impact of the global financial crisis has been slowing down the Chinese economy. Of course, China's GDP growth increased to 7.6 percent in the first half of 2013, which was excellent compared with other economies. But the fact is that the microeconomic situation in the country has worsened lately. In July, the HSBC Purchasing Manager's Index fell to an 11-month low of 47.7 from 48.2 in June. Disturbingly enough, the employment part of PMI dropped to 47.3 in July, the lowest since March 2009.
Perhaps that is why the market has taken the tax exemption to mean that the government will issue more favorable policies for private small and medium-sized enterprises.