The United States' recent announcement of holding direct talks with the Taliban and the subsequent reaction of Afghan President Hamid Karzai once again put Afghanistan's future in the spotlight.
There is intense interest in security, and talks about security. Equally important are issues of how to improve people's livelihoods and basic services such as water, roads, electricity, justice and the rule of law. These issues will determine how Afghan people react to the changing political and security landscape.
Despite the gloom and doom news, Afghanistan has thrown up many positives. More than 2 million children, including girls, regularly attend school. Connectivity has improved with more than 14 million cell phone users. Budgetary systems are improving at the national and municipal levels, which will ensure better accountability and delivery of public services. Yet huge challenges remain.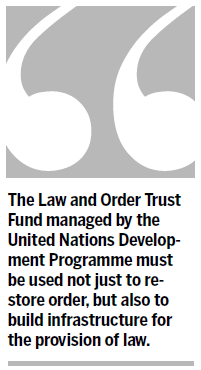 Challenge one: Efforts to improve the infrastructure and functions of local governments must be accelerated. In the decade between the two Bonn conferences on Afghanistan, much was done to build national institutions in the country. When it came to building local governments, however, donor impatience led to short cuts.
Each donor selected a province to set up its own provincial reconstruction team (PRT) and deliver assistance. The hard slog to build effective local governments seemed time consuming and difficult, and not sufficiently visible to legislatures and people back home. Setting up a PRT with visible results - even if it meant undermining local government capacity - was much easier.
Now as US-led NATO troops withdraw from the Afghanistan we're dealing with the same issue - which was avoided by setting up PRTs - namely, the rebuilding of local government infrastructure without which delivery of services is not possible.
Challenge two: The fear of a sharp drop in aid after 2014 deserves special attention. But even current levels of promised assistance are not flowing through. A mutual accountability pact made in Tokyo pledged about $4 billion a year in assistance to Afghanistan, but less than 50 percent of that has been delivered.
Part of the problem is lack of expertise at the local level to efficiently use this assistance, which will require a buildup of local government. A related issue is that the excess of experienced personnel in key ministries and departments - built up by offering high salaries to attract and retain talent - has created a parallel civil service. The challenge is how to dismantle this parallel structure to create a sustainable Afghan-led civil service, while retaining talented people.
Challenge three: There is a need to create employment for a young and rapidly growing population - especially people between the ages of 18 to 25. A majority of Afghanistan's population depends on agriculture, and revitalizing agricultural growth remains the largest source of job creation and improving livelihoods.