Historical evidence shows Japan's claim groundless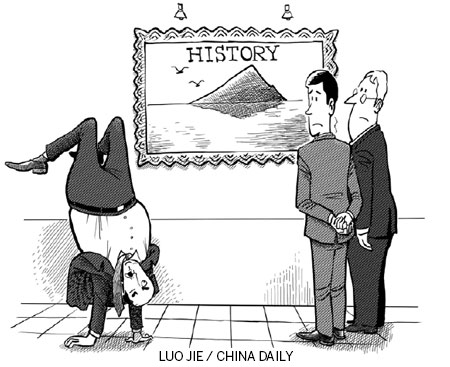 Over the weekend, China's senior military official said China won't compromise in territorial disputes at the Shangri-La Dialogue in Singapore.
In fact China always seeks solutions through dialogue and coordination.
However, Japan even denies that it has a dispute with China over the Diaoyu Islands even though its claims over the islands are groundless. In fact, The Basic View on the Sovereignty over the Senkaku Islands, a statement previously released by Japan's Ministry of Foreign Affairs, is in blatant disregard of the historical facts.
Japan supports its position with several arguments. Above all, that from 1885 on, the Japanese government conducted field surveys of the Diaoyu Islands, which found the islands uninhabited and showing no trace of having been under control of China's Qing Dynasty (1644-1911). The Japanese government made a cabinet decision in early 1895 to erect a marker on the islands and formally incorporate it into Japan's territory, and henceforth the Diaoyu Islands have been declared an integral part of the Nansei Islands, namely the Ryukyu Islands.
Japan also claims that the islands are not part of Taiwan and the Penghu Islands, which were ceded to Japan from China based on the Treaty of Shimonoseki in 1895, and so the Diaoyu Islands were not included in the territory that Japan renounced under the San Francisco Peace Treaty that took effect in 1952. Instead, they were placed under the administration of the United States as part of the Nansei Islands, and the administrative rights over the islands reverted to Japan in 1972 based on the Okinawa Reversion Agreement.
Moreover, the statement emphasizes that China did not raise any objection to the islands being placed within the trusteeship area, which indicates that China did not consider the islands as part of Taiwan. It says China only began claiming sovereign rights in the 1970s, after a United Nations agency's survey suggested the possible existence of petroleum in the waters off the islands.
None of these arguments stands up to scrutiny.
Japan claims that the Diaoyu Islands were uninhabited and therefore their status was terra nullius, or land not belonging to any nation, which made the islands eligible for occupation. It is true that the islands were uninhabited, and without adequate economic resources to support human habitation the islands remain uninhabited nowadays. But uninhabited islands do not equate to terra nullius, and in some cases, land where there are inhabitants is still deemed to be terra nullius as it is not recognized internationally as being claimed by a nation. So the question is whether the Diaoyu Islands were terra nullius before the 1890s.