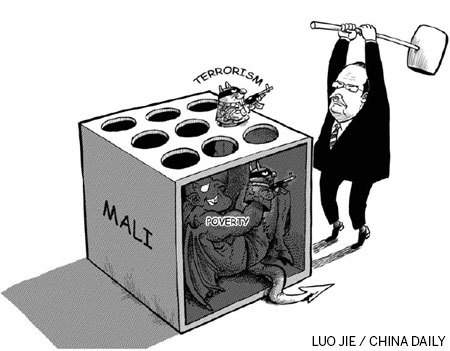 For historical but also geographic reasons, France considers the crisis in Mali one of its top external priorities, and facing the risk of seeing Mopti captured by jihadists, President Francois Hollande ordered the French military to intervene in the Sahelian country.
Forty-eight hours after Hollande's decision to launch "Operation Serval" on Jan 11, former French prime minister Dominique de Villepin expressed his opposition to the Socialist government's decision. As the symbol of the "no" to the US war in Iraq, de Villepin's views matter. He also rightly points at the failures in Afghanistan and Libya evoking a powerful ideal: "La guerre ce n'est pas la France" - "War is not France".
But a moral stance does not constitute an answer to an immediate danger, and the affirmation of an ideal cannot stop the creation of a "Sahelistan", a realm of brutality and obscurantism, by fighters from al-Qaida in the Islamic Maghreb or from Ansar Dine.
Since no responsible political leader could accept the making of a "sub-Saharan Afghanistan", firm action had to be taken to stop the expansion of Azawad - which is already a state and has declared secession from Mali - because it is an objective threat to the stability of Algeria, Mauritania, Niger and Chad, as well as to Europe's security.
Contrary to what de Villepin implies, nothing indicates that the "neo-con virus" is influencing Hollande's foreign policy. When he became the French foreign minister eight months ago, Laurent Fabius quoted Jean Jaures, one of the greatest figures of pacifism: "Le courage, c'est d'aller l'idal et de comprendre le rel" (courage is to tend towards the ideal and to understand the reality). In other words, the statesman aims to reach the ideal but cannot ignore reality; he has to strike a subtle balance between the purity of his intellectual principles and the imperfection of the world's furor.
Besides, Hollande's government anticipated in a responsible calculation that its resolute action would not increase the divisions in the international community. Before the French president authorized the use of force, the UN special representative for the Sahel region, Romano Prodi, declared during a visit to Bamako in Mali that "the Islamist push is of serious concern and could lead to 'extraordinary' decisions from the international community".
During military operation, Algeria allowed the use of its air space, and, after the French strikes, Thomas Boni Yayi, the chairman of the African Union, expressed support for Hollande's move. While the United States and the United Kingdom offered logistical assistance, Russian Foreign Minister Sergei Lavrov emphasized the dangers of terrorist activities in northern Mali.
On the fourth day of the operation, China's Foreign Ministry denounced Malian rebels' latest offensive and UN Secretary-General Ban Ki-moon welcomed the international response to Mali's request for assistance to counter what he called "the troubling push southward by armed and terrorist groups".