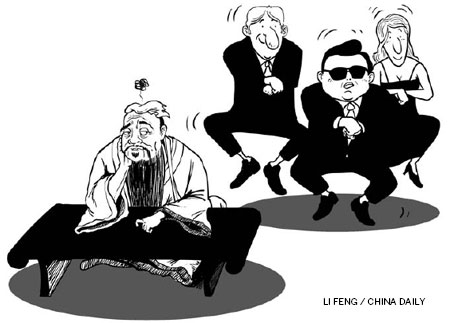 A South Korean music video, Gangnam Style, has become a global rage. Even UN Secretary-General Ban Ki-moon reportedly tried singer Psy's dance steps at the UN Headquarters in New York on Tuesday. The music video (MV) has been viewed more than 530 million times on YouTube since it was released in mid-July and is the top-ranked single on iTunes in 35 countries, including the United States, the United Kingdom, Brazil and Belgium.
It's a different matter that most of the people around the world are not familiar with singer Psy and don't understand the lyrics that satirize the extravagant lifestyle of South Korea's upper class. That the funny horse-riding dance in the MV has drawn a large number of people to the Internet carnival is not so important either.
Social networking has played a vital role in popularizing Gangnam Style. The MV was not a big success on the Internet when it was released. It drew the wider audience's attention only after pop star Justin Bieber's manager Scooter Braun and rapper T-pain praised it. Subsequently, celebrities such as Britney Spears, Anne Hathaway, Katy Perry and Tom Cruise recommended it on Twitter, and the MV soon became another case of viral communication on the Internet. The MV has also inspired local versions.
The music video has not only made Psy an international star, but also prompted more people to seek information on South Korea. As US magazine Foreign Policy said, Gangnam Style has become "a cultural brand promoting (South) Korean exports ranging from soft drinks to cosmetics to consumer electronics". The MV vindicates South Korean government's strategy that "export of cultural products promotes the construction of the country's soft power".
South Korea unleashed the "Korean Wave" in Asia in the 1990s, by exporting and promoting its cultural products such as TV dramas, films and music. In China, millions of youngsters have become fans of Korean pop stars. And now the "Korean Wave" has spread beyond Asia - South Korean TV soap operas are a big hit with people in Egypt, Turkey and East European countries. All this has increased the economic value of South Korean cultural products to $5 billion a year.
China, too, has made it a strategy to improve its soft power. Chinese leaders have stressed many times that since cultural exchanges are much easier in today's world, the country that occupies the cultural commanding height and possesses strong soft power will win the initiative in global competition.
To spread and establish its soft power, China has held several international events such as Beijing 2008 Olympic Games and Shanghai 2010 World Expo. Confucius Institutes, aimed at promoting Chinese language and culture, have been established in more than 350 colleges in over 100 countries across the world. China's official news agency, Xinhua, has set up more than 150 branches overseas, and intends to increase the number to 200. China's national TV channel, CCTV, too, has established several broadcasting centers around the world.
Though China is trying to make its language and message be heard across the world to overcome its disadvantageous position in global communications, the exports of its cultural products are far from satisfactory. It is still far from making a product like Gangnam Style. China does export a large amount of cultural products every year, but few of them become popular abroad.
In 2011, China made 791 films, but only 52 of them could be sold to foreign countries. And since 50 of the 52 were co-productions, they can hardly be regarded as Chinese cultural products. Also, Chinese films earned only about $400,000 at the US box office last year. In contrast, the box office returns of 21 US films in China was about $780 million, with the Transformers: Dark of the Moon alone drawing almost $150 million. China also produced about 15,000 episodes of TV drama, the highest in the world last year but their exports brought only $12 million, which was less than half of South Korea's.
Market, content and communication channel are the three key factors impeding the exports of China's cultural products. China has a huge domestic market but it has not been well explored. Chinese cultural enterprises tend to seek opportunities in domestic market and lack the wherewithal to expand overseas.
Government organizations and enterprises are the main force behind the exports of Chinese cultural products. But these organizations and enterprises are always keen on showing China's ancient civilization and current economic development, and cannot promote satires like Gangnam Style through official communication channel. But cultural products without entertainment value rarely become popular in overseas markets.
In these fast-changing times, traditional and unilateral international communications cannot facilitate the building of soft power. Therefore, China should pay more attention to unofficial channels to improve its global communication network to promote soft power.
Moreover, social networks are becoming a new form of unofficial communication. Since there are no boundaries on the Internet, people can easily become active communicators and create more original cultural products that would be welcomed by the rest of the world. Perhaps cultural officials should tap this area.
The author is a researcher at the Film Academy of Hong Kong Baptist University.
(China Daily 10/26/2012 page9)